Broadcast News
19/02/2015
Raycom Launches New ENG Audio Solutions At BVE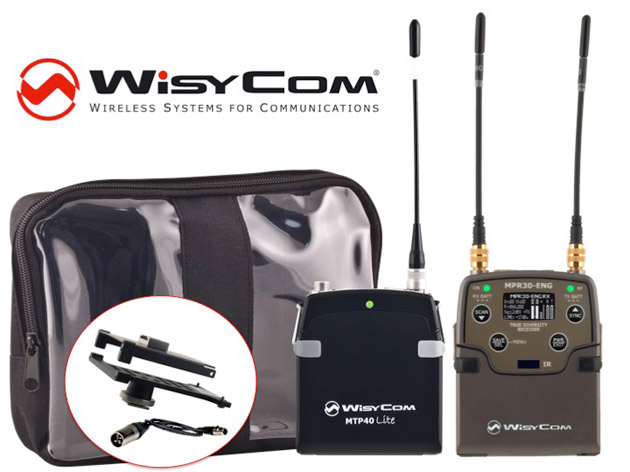 Two new ENG style offerings from Raycom will be launching at this year's BVE show.
First to arrive will be a package from Italian manufactures Wisycom containing a lite version of the superb MTP40 microphone transmitter and a full feature true diversity receiver, the MPR30-ENG. Wisycom equipment is famed for its wide tuning range capability. Even the lite version of the MTP40 does not disappoint, providing tuning between 520 and 640 Mhz. The receiver side of the pairing offers standard Wisycom 230Mhz flexibility between 470 and 700Mhz. The kit is completed with a neat hot shoe camera mount that securely holds the receiver in place, and a suitable connection cable. Everything comes packed in a handy carry case ready for grab and go deployment.
Raycom will be introducing a launch promotion at the show. The Wisycom ENG Kit lite will be available at an attractive price along with special offers on complimentary products such as a the MTB40S plug in transmitter for boom use and additional cables and aerials. Wisycom are renown for their highly capable RF technology this new ENG solution is set to be a firm favourite with sound engineers on the move.
Hot on the heels of the Wisycom launch will be the latest release from Lectrosonics in the states. The new L series range consists of a choice of belt pack transmitters, the LMb and LT plus a miniature receiver the LR. All units share a widened tuning range of three standard Lectrosonics blocks in a choice of four bands, offering tuning in 25 or 100KHz steps yielding over 3,000 selectable frequencies.
The LMb features an all-metal housing, wire belt clip, 50 mW of RF power and an integrated multi-function switch with menu-selectable modes for power, mute or talkback. The LT transmitter shares many of the features of the LMb plus user selectable RF transmission power of 50 or 100 mW.
The ultra-compact LR receiver employs Lectrosonics' patented Digital Hybrid Wireless® technology for compandor-free audio along with compatibility modes for interoperability with older analog systems. It is designed to be ultra-portable for use with DSLR, 4/3, small 4K, and other compact HD cameras; however the LR's diminutive size belies the technology inside. Dual antenna diversity improves range and resistance to dropouts and the RF spectrum analyzer and Lectrosonics' SmartTune capability make quick work of finding clean frequencies on site. A large, backlit LCD provides instant, clear information for setup and status monitoring while operational.
Once again the L series will be available in a choice of well priced packages that include a choice of TX / RX combinations plus accessories in a handy carry bag.
Andy Clements, BDM at Raycom said: "The launch of these new products from two of the world's most respected RF audio equipment manufacturers is an exciting development for us. Both ranges represent a fantastic offering both technically and commercially for our customers and are sure to be well received."
The article is also available to read in
BFV online
.
(IT/JP)
Top Related Stories
Click here for the latest broadcast news stories.