Broadcast News
22/09/2016
TSL Brings New Ambisonic Control To New Chicago Sound Library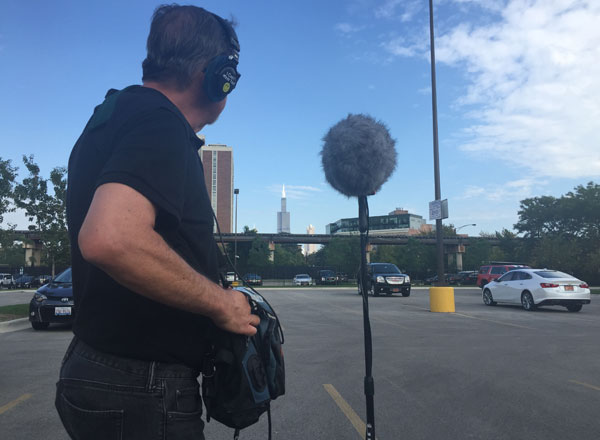 Broadcast equipment manufacturer, TSL Products, has announced that Pro Sound Effects' newly released sound library, Chicago Ambisonics used its SoundField microphone to help them capture the city's ambiences from all angles.
Featuring over three hours of immersive urban ambiences, the Chicago Ambisonics library also includes TSL's SurroundZone2 software which allows sound editors and mixers to change position of "virtual microphones" in any direction with a variety of polar patterns for greater control and creativity.
This is the second Ambisonics library PSE has released, following last year's acclaimed NYC Ambisonics, which also used TSL's SoundField microphones.
Pro Sound Effects' Library Specialist, David Forshee, said: "TSL Products' SoundField microphone is an accurate and reliable mic for easily capturing entire three-dimensional soundscapes. The ability to adjust the position of the mic in post-production is a major advantage of the Ambisonics format, and the intuitive interface of the SurroundZone2 software makes it easy to incorporate this into any sound editor's workflow."
Sounds of Chicago are in high demand due to more productions filming in Chicago than ever before such as Chicago Fire, Chicago PD, Chicago Med, Chicago Justice, Empire, The Exorcist, The Patriot & more.
Produced and recorded in 24-bit/96kHz high-resolution by Pro Sound Effects, the Chicago Ambisonics sound effects library was captured throughout Chicago including recordings from Magnificent Mile, Chinatown, the L Train, West Loop, Kennedy Expressway, O'Hare International Airport, Lake View, & Wrigley Field. And with leading companies in new immersive media technology recently selecting Ambisonics as the standard spatial audio format, Chicago Ambisonics is perfect for VR audio and 360 video applications as well.
Without the SoundField microphone, PSE would have had to use multiple microphone arrays to capture surround soundscapes. However, this type of set-up takes time and usually produce audio that suffers from phase incoherency creating several problems when the 5.1 audio has to be 'collapsed' to create a stereo soundtrack for broadcast over SD or legacy networks.
Particularly unique for a sound effects library, PSE's new Chicago Ambisonics library gives editors and mixers the ability to creatively manipulate the surround space to precisely match the visuals. By supplying the original B-Format audio file from the SoundField microphone as well as a TSL's SurroundZone2 plugin, the ambience can be completely adjusted to fit the requirements of the scene.
Thanks to TSL's SurroundZone2 software sound effects can be customized and then decoded to mono, stereo, 5.1, 7.1, and beyond as required. This gives users an unprecedented level of control over a wide range of microphone parameters from a single intuitive user interface.
"Chicago Ambisonics offers unparalleled flexibility and realism when mixing backgrounds for a project," David Forshee, added. "The B-format files give users the ability to tweak perspective of the city ambiences with software in real time to specifically match the setting of a scene."
tslproducts.com
(MH/CD)
Top Related Stories
Click here for the latest broadcast news stories.