Broadcast News
03/07/2014
Rascular Announces IBC2014 Lineup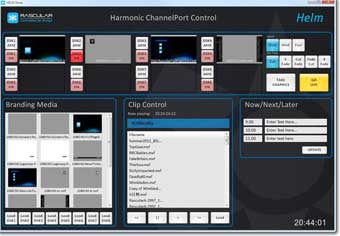 UK-based broadcast software company Rascular specialises in PC-based control and media management applications that give operators and engineers direct and task-focussed control of broadcast equipment.
The company has announced its lineup for this year's IBC show in Amsterdam.
Helm
– allows customers to pick best-of-breed equipment - branding devices, routers, servers, VTRs, multiviewers and modular gear - from a wide range of manufacturers yet control it with a single, integrated and customisable control screen. Helm now supports Miranda - now Grass Valley - Densite modular products, giving access to card functions at the touch of a button. Alongside numerous back-end upgrades, Helm can also control Black Magic Videohubs; Grass Valley native protocol routers and Sierra Video's Aspen router range.
RouteMaster
– Rascular's PC-based router control system, will also be on show. RouteMaster can be used with a wide range of video and audio routers - past, present and future - from all the major manufacturers. It's equally suitable for new router installations or extending the capabilities - and therefore the lifetime - of existing systems.
Using RouteMaster Web Panels, operators can control routers from computers, tablets and even mobile phones. Web Panels can be customised for appearance and function using the drag-and drop designer. Use of the latest HTML5 and Javascript standards allows panels to work with all major browsers on all major platforms.
It now includes support for hardware control panels from Blackmagic, Nevion and Sierra. Router support has also been increased to include: Black Magic Videohub; Grass Valley native protocol; and Sierra Video Aspen. It's also now possible to select router groups from web panels. RouteMaster can also handle router stacking: combining multiple independent routers to form a single, multilayer router.
www.rascular.com
(IT/MH)
Top Related Stories
Click here for the latest broadcast news stories.