Telephone:
+44 1588 640971
Address
110 Sylvan Rd,
London,
SE19 2RZ,
UK

About RASCULAR
Rascular is a UK-based broadcast software company. We specialise in the development of broadcast software control technology for third-party broadcast devices. This allows broadcasters to benefit from the use of best-of-breed devices from a range of manufacturers yet be able to control on-air functions remotely from a single screen.
Over the past 11 years weve evolved our solutions to provide advanced, easy-to-use device control from pre-defined or user-defined soft control panels. Our products are used by over 150 broadcasters globally including Discovery Communications Europe, BSkyB, Red Bee Media, M-Net, Sky Italia and ARD, to name just a few.
Helm: This is our flagship product. Helm is a fully user-configurable, PC-based application for either mouse-driven or touchscreen control and monitoring via TCP/IP of a wide range of essential broadcast equipment: branding devices, routers, video servers, VTRs, multiviewers and modular gear. Operators can use a single, purpose-designed control panel rather than having to access this equipment via the different proprietary systems supplied with each and every unit in the chain.
Helm Clockwork: Clockwork was launched in 2013 as an optional Helm feature to allow users to create scheduled events where simple or more complex actions can be triggered automatically at a pre-defined time of day. Helm is all about providing operators with a quick and easy way to set up complex workflows - Clockwork allows time-of-day events to be scheduled on a set-and-forget basis. This is independent of an automation system and without ongoing operator intervention. Helms unique architecture PC-based, with user-configured, soft panel operation is key to this.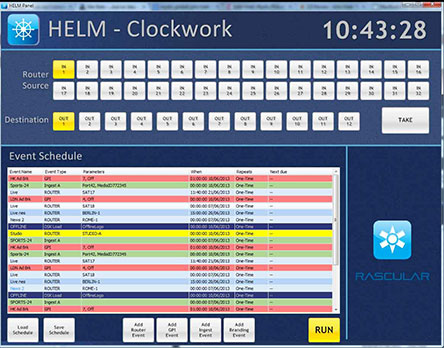 RouteMaster: RouteMaster transforms the way that you think about your existing or future routing requirements. It integrates Rasculars router control and emulation technology to form a powerful yet flexible router control system. Built on tried and tested software modules, RouteMaster can be used with a wide range of broadcast video and audio routers - past, present and future - from the major router manufacturers. It's a powerful and flexible system, equally suitable for new router installations or increasing the capabilities - and lifetime - of existing systems. Using RouteMaster, users can control routers from any web browser via computer, tablet and even mobile phone using our web panels. Routemaster's support for web-based control panels, built using standards-compliant HTML5 technologies, allows custom control panels to be used on any system.
RouteMaster also integrates directly with Omneon ProDrive, an integrated ingest and playout system for Spectrum and MediaDeck broadcast servers. This integration brings several advantages for ProDrive operations, particularly with ingest workflows, like Automated router source selection for scheduled ingest. Routemasters WebPanels can be used alongside ProDrive.