Broadcast News
11/09/2013
Rascular Launches RouteMaster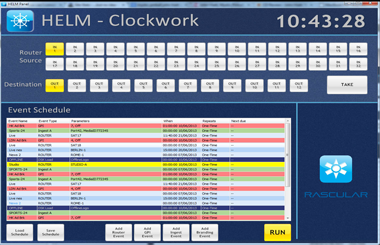 Rascular is highlighting the expansion of its PC-based control and monitoring technology Helm with Clockwork as well as launching RouteMaster, an innovative router control system.
RouteMaster integrates Rascular's tried and tested router control and emulation technology to create the ultimate in flexible and powerful router control. RouteMaster accepts multiple incoming router control sessions via TCP/IP or RS422 from automation systems, Helm panels, and other systems using a wide range of industry-standard router control protocols, and in turn converts these to control broadcast routers – again, with a wide choice of protocols.
RouteMaster offers the following advantages: translate router protocols, e.g. Probel SWP-08 to Evertz; transport conversion, e.g. TCP/IP to RS42; connection multiplexing – add additional hardware and software control panels to existing routers. RouteMaster is available in configurations supporting up to 256 incoming control connections, offering significant cost savings and simplified cabling compared to conventional serial control expansions.
In another key workflow development, Helm Clockwork allows users to create scheduled events where simple or more complex workflows can be triggered automatically at a pre-defined time of day, freeing up operators to concentrate on other vital tasks.
Clockwork - via the creation of a simple Helm panel - allows broadcasters and playout providers to schedule a huge range of different events using Helm's control of third-party hardware (branding devices, routers, video servers, VTRs, multi-image display processors and modular gear). These "events" could include switching a router, triggering a server to record an incoming feed, or the automated control of audio ingest – the list goes on.
Roddy Pratt, Technical Director with Rascular, said: "Precision control of broadcast technologies so often seems to be left to luck or last-minute consideration. Helm has been designed to come to the rescue in those circumstances but it's also a proactive tool that allows broadcasters to deploy single button workflows and to think differently about how they architect their systems. It is a hugely powerful tool."
Helm allows customers to pick best-of-breed systems – be that branding devices, routers, video servers, VTRs, multi-image display processors and modular gear, or any combination - from a range of different manufactures and provides a single, integrated, user-defined, PC-based control/monitoring surface for operators. This allows users to control channels, or pods of channels, from a single screen using bespoke, pre-defined buttons for complex workflows.
www.rascular.com
Top Related Stories
Click here for the latest broadcast news stories.