Broadcast News
08/09/2015
Rascular Completes Third-Party Integrations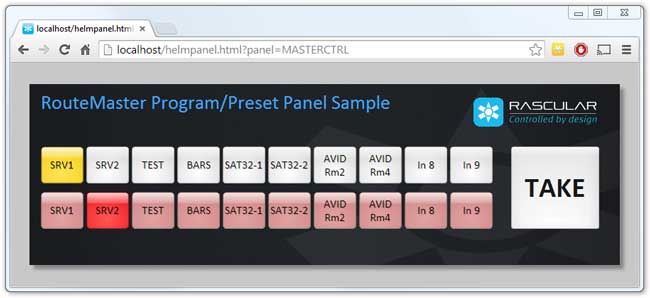 Rascular has completed new third-party integrations, including with Blackmagic and Barnfield Technologies, it has been announced. The expansion brings the company's user-defined, on-air control technologies to a wider audience.
Rascular has integrated its RouteMaster technology with Blackmagic's hardware router control panels (Blackmagic Smart Control), allowing users of the panels to control Blackmagic routers, plus any router that RouteMaster can control. This includes Barnfind. Barnfind manufactures a signal neutral platform that offers many functions and supports numerous different signal formats in one frame.
RouteMaster sits between the hardware panels and the router(s), providing flexibility for users who can choose the same, familiar hardware interface to operate routers from multiple manufacturers. As it supports a range of protocols, users can upgrade or replace routers without changing either the control system or the hardware panels.
Ephraim Barrett, Sales Director with Rascular, said: "Deploying RouteMaster, users can control an existing router installation from any web browser via computer, tablet and even mobile phone using Rascular's web panels. RouteMaster's support for web-based control panels, built using standards-compliant HTML5 technologies, allows custom control panels to be used on any system, providing unrivalled levels of control flexibility for router installations."
In addition, the technology that Helm, which provides manual control of playout systems in a master control environment, supports has also been expanded and now includes Utah Scientific routers; enhanced Harmonic Spectrum media server and Spectrum ChannelPort support; RouteMaster native support; enhanced Imagestore 750 integration; and Kramer Router support.
Barrett added: "Today's playout operations use specialised equipment from a variety of broadcast manufacturers. Operations staff are used to automated control of these devices. But manual control is also essential and that's a different challenge. Operators are forced to use multiple control surfaces making manual control almost impossible, unless equipment is from a single manufacturer."
www.rascular.com
(JP)
Top Related Stories
Click here for the latest broadcast news stories.