Broadcast News
17/04/2002
MPC posts 'Crash Test Dummy' advertisements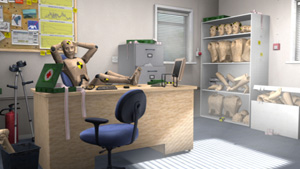 MPC has posted a 30-second commercial for Axa Direct through agency HHM.
The humorous ad, titled 'Crash Test Dummy' (pictured) promotes Axa's Motor Insurance using an animated crash test dummy. The animated character highlights the key benefits of the product before strapping himself into a crash test chair and catapulting himself into a wall, recovering to ask for headache tablets.
The dummy was modelled in Maya using sub-division surfaces and hand painted textures from head to toe, before being composited in Inferno. MPC's Elie Jamaa also developed an in-house light occlusion plug-in, Gigolo for Maya, which was used to greatly improve the ad. This created a less harsh light, providing a soft, shadowy look.
MPC's Russell Appleford was both director and lead animator on the ad. The crash test dummy was designed from scratch using references from existing dummies, Russell then injected warmth and friendliness into the character.
Appleford said: "We were asked to create a crash test dummy that was interesting but not clumsy or stupid – not too jokey. As the ad is 30 seconds, with a lot of dialogue, it was also a real challenge injecting character into the dummy."
'Crash Test Dummy' was completed, start to finish, in four weeks. Following successful testing, the ad is now to be re-launched in April/May 2002.
The Moving Picture Company,
www.moving-picture.com
(GMcG)
Top Related Stories
Click here for the latest broadcast news stories.