Broadcast News
10/11/2014
Leader Video Test Range Debuts In Hollywood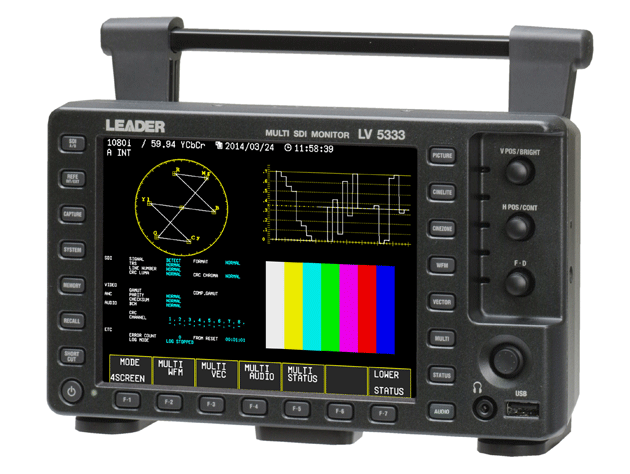 Leader demonstrated the latest additions to its range of video test instruments at the SMPTE's 2014 Annual Technical Conference & Exhibition in Hollywood, October 20-23.
Making its first show appearance, Leader's LV5333 is a new multi-SDI monitor designed for use in studios, technical areas or attached to a video camera-support tripod. The LV5333 is compatible with over 20 HD-SDI/SD-SDI signal formats including 3G-SDI. The integral 6.5 inch XGA TFT LCD screen can also be used to display video signal waveform, vectorscope or the video image. Leader's CINELITE II, CINELITE ADVANCED, histogram, gamma display, gamut and level error display functions, which were optional on the LV5330, are now included as standard. Other features include cable length, external timing display and field frequency deviation display.
User-configurable multi-display combinations allow easy inspection of signal parameters. Full-screen displays can alternatively be selected to allow detailed review of specific elements. Up to 16 channels of embedded audio can be displayed using bar level meters. SDI-embedded audio can be extracted and two user-selectable audio channels sent as AES/EBU to a BNC output; they can also be monitored via the headphone output.
Also demonstrated was the latest version of Leader's LV5490 waveform monitor. The LV5490 allows standard-definition, high-definition and 4K ultra-high-definition to be checked from a single compact unit.
Now included in the LV5490 is a Focus Assist, a Leader innovation introduced at IBC this year. With this feature, the instrument can be used for checking low-contrast content and fine image detail. Other new capabilities include a CIE 1931 colour space chart generator. The LV5490 can show 4K signals in the standard's full ITU Recommendation BT.2020 colour space. Operators can also adjust the size of each of the displays on the screen to suit specific tasks. This allows easy magnification and inspection of detail on the instrument's 9-inch full 1920 x 1080 HD LCD monitor screen instead of being limited to fixed size quadrants.
Leader's LV5490 is equipped with eight input connectors and accepts up to two 4K signals simultaneously. Another key new feature is the ability to handle the video signals via two-sample interleave as well as square division. In square-division signal mode, the entire image is split into four quadrants and each quadrant is transmitted in turn as a sub-image. In the case of two-sample-interleave, two consecutive pixels are transmitted at a time. The first pair goes to sub-image 1 and the second pair to sub-image 2. The first pair of the next line then goes to sub-image 3, the first pair of the next line going to sub-image 4, and so on. Each sub-image is transmitted separately to the monitor. This type of two-sample interleave is the approved standard for 4K.
The LV5490 has a footprint just 223 wide by 360 millimeter deep and a height of 189 mm.
Read the article in BFV
online
.
(IT/JP)
Top Related Stories
Click here for the latest broadcast news stories.