Broadcast News
12/03/2015
Suite TV Chooses Leader HD/SD-SDI Test Instruments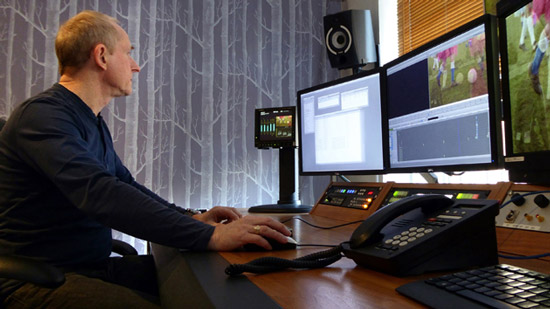 Soho-based Suite TV, one of Britain's most innovative post production companies, has equipped all seven of its online video edit suites with Leader test instruments. The sales were negotiated by Leader's UK master reseller, Thameside TV.
"We have employed Leader equipment very successfully for many years, starting with an LV7700 rasterising test instrument in our engineering support room," comments Jim Merrett, Chief Engineer at Suite TV. "Screen sizes in edit suites are getting larger so we decided to equip each suite with a compact test instrument which would take up less space than yet another large SVGA display.
"Leader multi-standard instruments in the LV538x series were the ideal choice both in terms of quality and size as well as providing all the features we need. They are also very cost-efficient as they can be specified with the options we need rather than additional features we would never use. Their integral 8.4 inch XGA screen allows very precise signal evaluation. We use the instruments to monitor incoming video and audio as well as the output from our Avid Media Composer editing systems.
"We encourage all editors to optimise their signal levels as part of the post production workflow rather than relying on a legaliser to bring non-compliant signals back into shape further downstream. The editors have the option of waveform monitoring in RGB or YPbPr to match their personal preference. The instruments are very easy to operate and have two inputs plus a switched output that feeds the audio monitor and the picture monitor. Fast front-panel access is available to every parameter."
Leader's LV538x series includes the LV5381-S and LV5382. The LV5381-S is a complete multi-screen HD/SD-SDI video and audio test system measuring just 4U by half rack width. HD-SDI or SD-SDI signals from up to four cameras can be monitored on the integral 8.4 inch TFT-LCD screen, allowing fast alignment of gain and black balance. Picture monitoring features include colour temperature specification; brightness, contrast, and aperture adjustment; and the display of gamut error locations. The four channels can be viewed individually at full-screen size or simultaneously. Each input channel can be assigned its own colour to simplify comparison of video signal waveform and vector displays. Selectable display parameters include video signal waveform, chroma vector, five-bar video peak level or picture monitor. A level meter display shows embedded audio. Transmission error can also be displayed. Incoming YPbPr signals can be viewed as as RGB or pseudo-composite waveform with line selection and adjustable waveform magnification.
The LV5381-S accepts tri-level sync or can synchronise to NTSC or PAL black burst. Up to 30 front panel presets can be stored internally. Captured data can be viewed onscreen and saved as bitmap files to USB memory for export. Each LV5381-S comes complete with CINELITE and CINEZONE video signal luminance information analysis tools. CINELITE allows any three points on the picture to be selected. It then displays their f-stop numbers, percentage values, and level values.
The size of the measured point can be adjusted from a single pixel to the average value for nine or 81 pixels. CINEZONE enables luminance levels in a picture to be displayed in a separate color. This allows the overall luminance distribution of a still or moving image to be checked intuitively. Over-exposure, underexposure, and different luminance levels in dark areas can all be spotted quickly. The LV5381-S is supplied complete with Audio Lissajous and Status Display capabilities.
The LV5382 is a variant of the LV5381-S with special capabilities for handling 3D content. It can perform HD-SDI 2-channel simultaneous display plus HDMI frame-packing in side-by-side or top-and-bottom pairs. Additional 3D-related features include a variable grid display for horizon and parallax checking plus an anaglyph display. Vertical and horizontal reversal can be performed when using a mirror rig.
Established in 2002, Suite TV is based in a traditional Edwardian town house with a total of 18 online and offline suites plus two HD grading suites and three Avid Pro-Tools audio suites. An important consideration when creating the suites was to achieve the maximum possible design and layout uniformity, allowing editors to move quickly from one suite to another. Each suite features additional auxiliary equipment to cater for all editing requirements.
The article is also available to read in
BFV online
.
(IT/CD)
Top Related Stories
Click here for the latest broadcast news stories.