Broadcast News
05/06/2023
MSolutions To Unveil Hardware Refresh For Its MS-Test Pro AV Test Device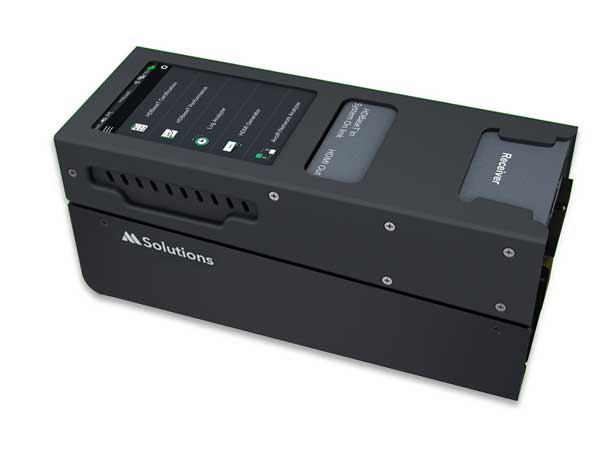 MSolutions will unveil a hardware refresh for its MS-Test Pro AV test device at InfoComm that adds support for higher 4K/UHD resolutions and ultra-high-speed, wide-bandwidth connections.
MSolutions will demonstrate its new MS-TestPro MS-106B model at the HDBaseT Alliance booth (3403) along with its latest HDBaseT Spec 3.0 signal extenders and range of active and passive cables, providing visitors with an overview of their complete solutions for signal connectivity, distribution and testing in diverse AV environments.
Same as its predecessor (model MS-104B), the MS-106B model gives users a complete solution to test and verify the presence and integrity of AV signals and cables, with support for HDBaseT, HDMI, IP and USB systems through attachable modules. The same device allows installers and field technicians to quickly certify link status for all connections, with the ability to generate reports that confirm system performance and functionality upon leaving job sites.
The MS-106B retains these characteristics and adds support for the HDBaseT Spec 3.0 specification and 18Gbps HDMI signals, made possible through MSolutions' new HDBaseT Spec 3.0 module. HDBaseT 3.0 compliance means that users can test and certify uncompressed video, audio and data signals over long distances at ultra-high speeds. Additionally, the MS-106B provides a new HDMI signal generator that offers full visibility into the quality and performance of high-bandwidth 4K@60 4:4:4 signals, the highest UHD resolution supported under the HDMI 2.0 specification.
The MS-106B is backwards-compatible with existing MS-TestPro modules, including the HDBaseT Spec 2.0, HCT (HDMI Cable Test), UCT (USB Cable Test) and DCR for qualifying the DC resistance of CatX cables and links. The MS-106B also adapts to MSolutions' AV over IP software, which provides snapshots of switch configurations, network nodes, and more as they relate to AV over IP network performance.
Longtime MS-TestPro users have no learning curve, as the MS-106B hardware retains the same portability and ease of use. The handheld device remains lightweight (under two pounds) and small (2.5 x 7 x 3 inches) with PoE and battery-powered options, along with a 3.5 touchscreen user interface that is easy to navigate and provides detailed insights into performance parameters and test results.
"We have carried over the same design mechanics and user interface with full compatibility to our series of test modules, which integrators can easily connect and disconnect to the MS-106B same as before," said Eliran Toren, CEO, MSolutions. "The MS-106B builds in new features under the hood to support our new HDBaseT 3.0 Spec module, which gives users an updated HDMI generator for 4K@60:4:4:4 signals. This hardware upgrade and expanded modular set opens integrators to the next generation of installed AV jobs, while providing all customers with the toolsets they need for system testing and maintenance."
MSolutions will also showcase its support for uncompressed extension of HDMI signals at 4K@60 4:4:4 with its MS-3R Series of HDBaseT extenders, receiving their North American debut at InfoComm. The MS-3R incorporates uncompressed HDBaseT 3.0 technology to extend 4K HDR video (18Gb/s) to distances up to 333 feet (100 meters) over a single category cable, supporting all 4K resolutions including dHDR (HDR10+ and Dolby Vision at 60Hz). The series includes the MS-3R, which supports HDMI connection; and the MS-3RU, which adds USB-C connectivity. Both extenders provide bi-directional RS-232 between sources and destinations, along with bi-directional Power over Cable (PoC) to fuel a device at either end. Both extenders also support HDMI pass-through of all known HDMI audio formats, including Dolby Atmos and DTS:X.
MSolutions will also unveil its expanded family of active and passive cables at InfoComm, covering a multitude of USB and HDMI connectivity requirements. MSolutions is now offering its MS-USBC (USB-C to USB-C) and MS-USBCA (USB-C to Type A) passive cables both with its extender sets and separately for installers that need reliable replacement passive cables for problematic systems. The company's expanding range of active cables, including a new USB-C to HDMI 2.0 cable (MS-HDMI-4KC), provide premium connectivity solutions for a host of AV applications. That includes active cables with optical fiber to support high-bandwidth USB 3.1 Gen2 and full-speed USB 2.0 video and data transport with greater reliability and performance than copper wire connections.
InfoComm takes place June 14-16 at the Orange County Convention Center in Orlando, Florida.
www.m4sol.com
Top Related Stories
Click here for the latest broadcast news stories.