Broadcast News
04/12/2013
Rascular Launches RouteMaster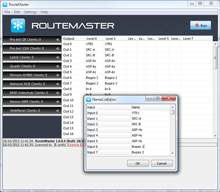 Rascular has announced the launch of RouteMaster, which enables users to control an existing router installation from any web browser via computer, tablet and mobile phone using the company's web panels.
RouteMaster's support for web-based control panels, built using standards-compliant HTML5 technologies, allows custom control panels to be used on any system.
The device also allows the addition of low-cost hardware panels to existing installations and facilitates the use of hardware panels such as Blackmagic Smart Control.
Users can upgrade or replace routers without changing either the control system or the hardware panels.
RouteMaster supports both serial and TCP/IP connections, meaning customers can use network protocols to control an RS422 router.
Roddy Pratt, Technical Director with Rascular, says: "In our work with customers, we've come across many occasions where router expansion is a real problem given the sheer amount of connections required in the modern world.
"RouteMaster not only provides a technically elegant solution, it's also one that creates immediate and considerable cost savings. Not only that, but the addition of web-based control panels to existing installations creates a level of flexibility and easy accessibility that breathes new life into existing routers."
www.rascular.com
(IT/JP)
Top Related Stories
Click here for the latest broadcast news stories.