Broadcast News
17/07/2013
Nugen Announces IBC Portfolio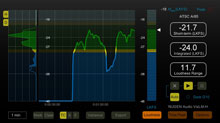 NUGEN Audio has announced its line up of audio correction innovations for this year's IBC show.
Optional MXF Support for LMB Batch-Processing Loudness Tool
At IBC2013, Nugen Audio will display its LMB system, an offline file-based loudness analysis and correction program designed for assessment and correction of files for loudness and true-peak content, compliant with ITU-R BS. 1770 and EBU R128-based specifications.
It supports OP-Atom and OP1a formats, as well as PCM audio data (including D10-encoded PCM). MXF files containing other operating patterns or audio encoding will be treated as previously.
MultiMonitor: Stand-Alone 16-Meter Loudness Software
Nugen will also be showcasing MultiMonitor, a new software program that enables users to monitor loudness and true-peak levels on 16 individual meters.
Available for Mac® or Windows® operating systems, the MultiMonitor software integrates with audio consoles to measure loudness in a variety of situations, from live TV or radio broadcasts to complex post-production mixes.
MultiMonitor's 16 individual meters can combine to monitor up to 96 channels of audio simultaneously. Each meter can be formatted to mono, stereo, or 5.1 surround sound, with the ability to show both a LUFS/LKFS momentary and true-peak display in a single window.
VisLM: Visual Loudness Metering Plug-in With Timecode Feature
The new visual loudness metering plug-in, VisLM, now includes a timecode feature, making it possible to relate the loudness parameters directly to timecode references.
VisLM is available in the Avid® AAX format and in a 64-bit OS X® version and will now also include support for 64-bit iLok protection for AAX, VST, and audio units.
LM-Correct: Stand-Alone Loudness Tool
LM-Correct can be used as a one-stop loudness correction solution to fix audio that has not been mixed with loudness standards in mind, or in conjunction with a real-time loudness meter such as VisLM to fine-tune audio that has been mixed to loudness requirements from the outset.
ISL: Inter-Sample True-Peak Limiter
The NUGEN Audio ISL Inter-Sample True-Peak Limiter is designed for the control of peak levels in audio signals from mono to 5.1.
ISL is based on the standardised true-peak algorithms of ITU-R BS. 1770 and related standards, and it is suitable for the control of audio for post-production and broadcast applications.
True-peak limiting can also be used to ensure that downstream codecs such as MP3 and AAC do not introduce distortion into the signal. While ISL is designed for limiting relatively dynamic high-quality audio, it can also be used to hard-limit and reduce dynamic range considerably if required.
www.nugenaudio.com
(IT/JP)
Top Related Stories
Click here for the latest broadcast news stories.