Broadcast News
04/09/2014
NUGEN Celebrates Ten Years At IBC2014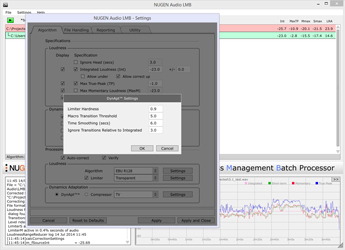 NUGEN Audio is celebrating ten years in the business at IBC2014, showcasing its new DynApt™ dynamic adaptation technology for loudness-compliant audio repurposing, now available as an extension for NUGEN Audio's Loudness Management Batch (LMB) Processor. In addition, NUGEN Audio is introducing a new version of LMB Processor's MXF Extension with DPP AS-11 compatibility.
NUGEN Audio will also feature version 1.1 of MultiMonitor, its loudness and true-peak monitoring software application, and will preview its upcoming technology for stereo-to-5.1/7.1/9.1 upmixing in film and television production.
NUGEN Audio's LMB Processor is the first product to feature the company's new DynApt technology. DynApt addresses the challenges of repurposing theatrical content to TV in the context of full loudness compliance.
It also benefits when adapting TV content for mobile streaming, or any other application that requires adapting dynamics accurately to the constraints of the delivery system.
LMB Processor's MXF Extension is the first NUGEN Audio product set to receive DPP AS-11 certification, a result of the company's participation in the Digital Production Partnership (DPP) compliance program. Making its IBC debut, the MXF Extension introduces native MXF audio-handling that enables LMB Processor to perform automated analysis and correction of audio within an MXF container while preserving all other data within the file.
MultiMonitor version 1.1 includes usability and logging improvements to enhance the postmortem and compliance record, so that data can be reviewed later if the need arises. MultiMonitor now offers individual logging for up to 16 individual loudness and true-peak meters — a total of up to 96 mono, stereo, and 5.1 audio channels. With version 1.1 of MultiMonitor, each meter is individually network addressable, broadening the possible applications.
NUGEN Audio's new Enterprise Solution Program offers a range of custom-coded applications that can be tailored to the needs of large-enterprise customers. Each custom enterprise solution can support multiple users and enable IT staff to centralize licensing across multiple machines, without having to juggle many unique license codes.
"For a decade, NUGEN Audio has been serving the needs of clients ranging from small, boutique post-production houses, to the world's largest broadcast and production organisations. At IBC2014, attendees will see why NUGEN Audio continues to be the leading innovator for standards-based solutions that ease the burden of loudness compliance," said Jon Schorah, founder and creative director, NUGEN Audio. "A great example is our new DynApt technology, which makes loudness compliance and repurposing faster and less expensive, with a better-quality result than other methods. And MultiMonitor now supports individual logging and network addressing for more loudness meters and more channels than any other solution."
www.nugenaudio.com
(IT/CD)
Top Related Stories
Click here for the latest broadcast news stories.