Address
61 Station Road,
Irthlingborough,
Northamptonshire,
Northamptonshire,
NN9 5QE,
England UK

About Sonifex Ltd
Sonifex manufacture broadcast audio equipment for radio & TV studios – delay synchronisers, embedders & de-embedders, Dolby encoders & decoders, distribution amps, mic amps, A/D, D/A & sample rate converters, matching/balancing amps, rack mixers, headphone amps, stereo to mono converters, silence detector, source selectors, studio light controller, transformer isolation units, audio logging machines, radio broadcast mixers, telephone hybrids (tbu), commentary & talkback units, studio switchers, & complete studio furniture. We also design & make bespoke audio equipment.
Some of our products are highlighted below:
CM-CU21 Commentator Unit

The CM-CU21 is a portable commentator unit designed for use in sports-grounds and stadia which provides two fully featured commentator positions and a third guest location that can alternatively be used as a line-level input.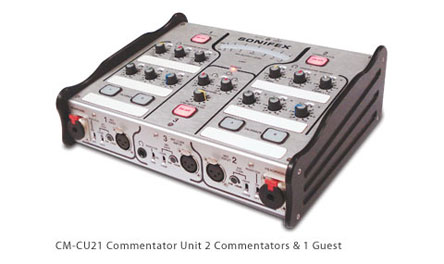 ---
Pro Audio Streamers
There are three professional audio IP streamers in the new Pro Audio Streamer range providing encoding and decoding in different formats. The PS-SEND converts an audio input to an IP stream, the PS-PLAY reads an IP stream and outputs to balanced and unbalanced audio line levels and the PS-AMP reads an IP stream and outputs audio to stereo speakers. Each unit also has an ethernet web server to allow configuration.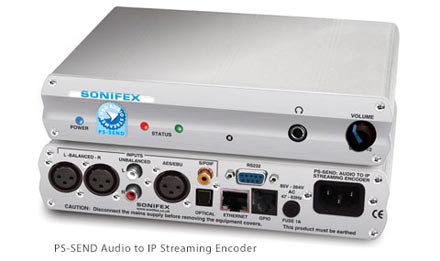 ---
RB-VHEDD8 3G/HD/SD-SDI Dolby® E Encoder & Embedder
The RB-VHEDD8 is an SDI audio de-embedder and re-embedder with Dolby® E Encoding capabilities. Dolby E encodes up to 8 channels of audio into two channels of an AES digital audio stream which is then embedded onto any of the available groups within each of the two video output paths. The encoded Dolby E bitstream is also available via a dedicated output on the rear panel.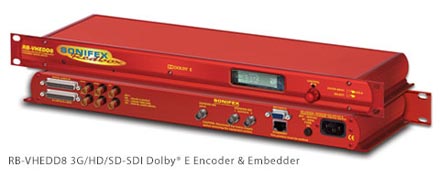 ---
Redbox RB-DS2 Stereo Delay

The RB-DS2 is a stereo audio delay synchroniser used for resynchronising audio to video following delay processes such as standards conversion, transmission delay, logo insertion, video aspect ratio conversion and network delays. It can be used for fixed installations to correct a permanent audio delay, or on an intermittent basis to provide occasional correction, for example for live links. Accepting digital audio signals up to 96kHz, 24 bit, the sonic quality of the RB-DS2 is superb and silent switching is used to provide the smoothest, cleanest audio delay available.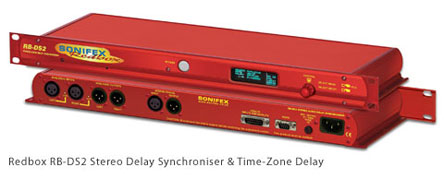 ---
Redbox RB-VHCMD16 3G/HD/SD-SDI Embedder & De-Embedder

The RB-VHCMD16 is a 16-channel de-embedder and 16 channel embedder combined into a single 19-inch rack unit. The unit can selectively de-embed any channel within any audio group of an SDI video signal, to any of the digital outputs. After which, the video becomes two independent paths where the audio groups can be selectively deleted or passed through. The unit then embeds any of the digital input channels to available groups within each of the two video paths, which are then sent to the re-clocked SDI outputs.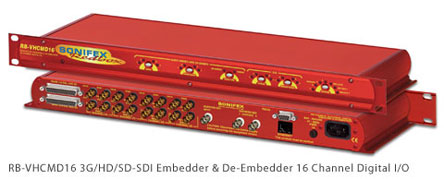 ---
SignalLED Studio Illuminated Signs

The SignalLED range of illuminated RGB LED signs are designed for use outside recording, on-air & production studios, meeting rooms, conference rooms and for fixed installations. The signs only use 3w of power and allow different colours and operation modes to be configured.

Twitter Feed

Facebook Feed