Broadcast News
28/09/2016
Winners Of Sonifex Distributor Of The Year Awards Announced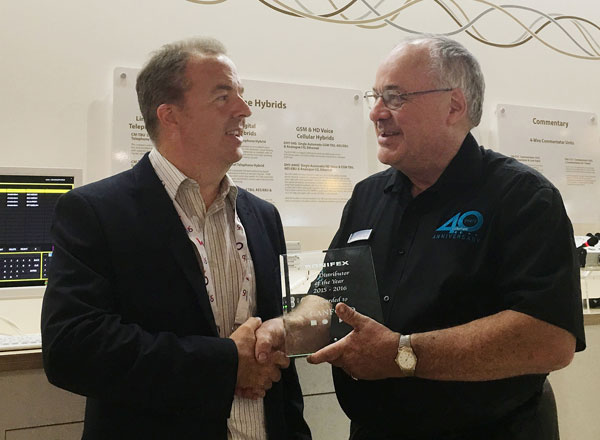 The winners of the Sonifex Distributor of the Year Awards for 2015-2016 were announced at this year's IBC exhibition in Amsterdam, including Canford Audio, who received the award for the best UK distributor, and orangetec, based in Stuttgart Germany, who received the award for the best export distributor.
Presenting the award to Canford Audio was Marcus Brooke, Managing Director, Sonifex, and to orangetec, Richard Butlin, Sonifex Sales Manager for Europe.
Marcus Brooke, Managing Director of Sonifex said: "It's a great privilege to offer these awards in recognition of the hard work and dedication of our distributors around the world. I'd like to congratulate both Canford and orangetec for their commitment and support over another good year."
Iain Elliott, receiving the award for Canford, said: "Once again I am pleased to receive this award on behalf of the Canford team, whose hard work, commitment and excellent customer service has ensured that our Sonifex sales have continued upwards."
Iain Elliott of Canford, right, received the award from Marcus Brooke of Sonifex.
Ulrich Otte of orangetec, commented: "It is a pleasure to receive the award this year on behalf of orangetec. Dedication and hard work, coupled together with new Sonifex product lines, has enabled us to achieve our high targets this year."
sonifex.co.uk
(MH/CD)
Top Related Stories
Click here for the latest broadcast news stories.