Broadcast News
16/08/2018
Sonifex To Showcase Award-Winning Mix Monitor At IBC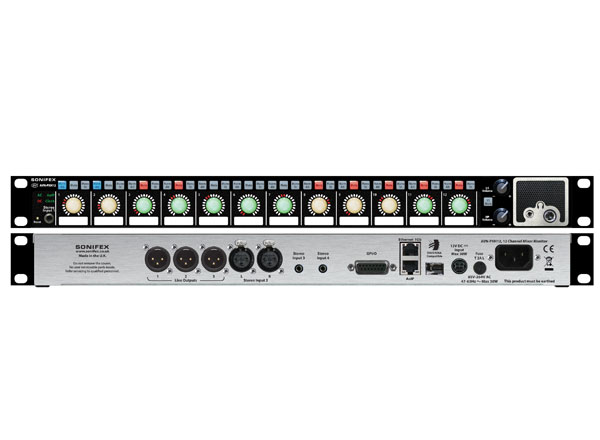 Sonifex is to showcase its award-winning AVN-PXH12 12 x 2 Channel Mix Monitor at the upcoming IBC 2018 in Amsterdam, 14-18 September.
The Sonifex AVN-PXH12 12 x 2 Channel Mix Monitor can monitor and mix up to 24 AES67 AoIP sources in a compact 1U rack to a speaker/headphone combination, ideal for use in production galleries, OB trucks and engineering racks rooms. The product was winner of the AMI 'Best of Show Award' for IBC2017, the BaM Awards™ April 2018 and has been nominated for a 2018 'AV Award'.
Each unit has front panel headphone outputs and a speaker, together with rear panel analogue outputs. There are 12 x mini channel-strips along the front panel, each with a translucent rotary encoder showing confidence monitoring of the input level in the knob itself and output mix level in the LEDs around the encoder. Three buttons for each encoder can be used to select the main/secondary input, to mute the channel and to send the audio of that channel to left, right or stereo mix of the output. Pressing the encoder knob lets you solo the channel. With these simple controls, a mix of any of 24 channels can be made quickly and intuitively, ideal for live news environments where audio sources are changing rapidly and need to be monitored instantly.
As well as monitoring any AES67 AoIP stream, SAP discovery has been added to the unit so that AES67 Dante® streams can also be mixed and monitored.
Additionally, Ember+ is used for the control communication allowing remote control of the product using the open Ember+ standard.
The 24 audio sources can be selected from 4 discrete stereo analogue audio inputs (1 x front panel 3.5mm jack socket, 2 x rear panel 3.5mm jack sockets and 1 x rear panel stereo XLR input pair) or from any RAVENNA, AES67 or AES67-enabled Dante® AoIP connected streams.
The front panel has 3 outputs: paralleled stereo headphones on 6.35mm (1/4") jack and 3.5mm jack sockets, each with their own individual attenuation settings, and a mono-mix speaker output. There are discrete volume controls for the headphones and the speaker, and the latter also has a mute button.
The rear panel has an additional 3 line level XLR-3 audio outputs, which can be designated as mono mix or left or right channel outputs of the mixed audio content (similar to the speaker and headphone outputs respectively), or any of the physical inputs or AoIP input sources.
The unit also sends to the network, as AoIP AES67 streams, the 8 channels of the 4 physical stereo inputs, together with a stereo mix of the speaker output.
Front panel LEDs show the AoIP network status, synchronisation status and the status of the AC and DC power supply inputs. The rear panel contains IEC mains and secondary DC power inputs which provide power redundancy to the product. There are two Ethernet RJ45 connections (control and AoIP) and there is an Ethernet SFP module that, when used, replaces the AoIP RJ45 connection.
A rear panel GPIO connector provides 10 local ports which can be user configured as inputs or outputs and provide software controlled functionality. A voltage free relay contact can be used to operate external equipment.
A built-in web server provides complete configuration control of the unit including source assignment to each channel and also allows for firmware updates and configuration backup. The unit can be controlled by suitable Ember+ commands.
Sonifex's AVN-PXH12 12 x 2 Channel Mix Monitor will be demonstrated on stand 8.E61 at IBC 2018 at the RAI in Amsterdam, 14-18 September.
sonifex.co.uk
Top Related Stories
Click here for the latest broadcast news stories.