Broadcast News
21/08/2018
Sonifex To Demonstrate New Firmware Options For AVN Range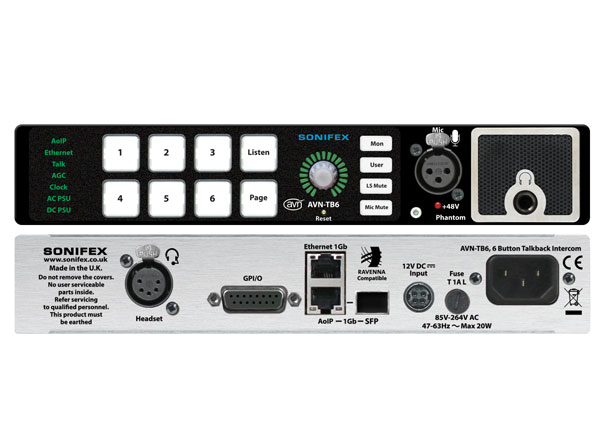 Sonifex is to demonstrate the latest firmware options for its AVN range of talkback intercoms at IBC 2018.
The AVN range natively uses AES67 AoIP to link devices over a standard Ethernet network, allowing simple installation and web-browser configuration.
The AVN-TB10AR 10 button talkback intercom was the first product released within the range. It is an advanced talkback/listening/paging intercom unit that enables voice/audio communication between different areas in a facility or building complex. Typical applications are for OB truck comms, theatre comms, production gallery comms and inter-studio comms in a TV or radio station. With both 4-wire analogue inputs and outputs, as well as AoIP network audio connectivity, the AVN-TB units can be used with existing legacy 4-wire systems and with new AES67 AoIP networked audio infrastructure.
The new firmware for the products has four main new features:
IFB Mode: Remote devices, speaker stations or belt packs for example, that have no method of routing or mixing audio locally can receive IFB audio feeds from the AVN talkback units with the stream content controlled at the generating unit. Up to three separate IFB streams can be generated by the AVN-TB10AR and AVN-TB20 variants. The IFB streams generated by the talkback units have additional options which set the audio source, which can either be a local audio input or an AoIP stream, and how the mic audio is mixed with or replaces this source when a channel is active. These streams can be assigned to channel buttons on remote talkback units, or to any AES67 capable device.
Universal Connections: The unit can now connect to any AES67 stream and use it as a talkback source for the front panel buttons.
4W Bridge Mode: This mode offers an alternative to normal intercom use, allowing audio equipment connected to local inputs and outputs to communicate with remote devices assigned to the channel buttons.
Talk/Force Listen Mode: This is a new call function type which provides similar functionality to listen only calls, but gives you the ability to talk when the channel button is pressed again during a call.
New hardware releases for the talkback products are also showing on stand 8.E61 at IBC this year: The AVN-TB6 6 station talkback intercom and the AVN-TB20AR 20 station rackmount intercom.
The AVN-TB6 6 station talkback Intercom has a smaller button count for smaller talkback systems, or for areas with reduced communications needs.
There are two versions, the AVN-TB6 which is freestanding but can be rackmounted with separate AVN-TB6RK rack plates and a desktop version, the AVN-TB6D, which is in a smaller form factor with an elegant sloped front. Both have mic & headset inputs, +48V phantom power for the mic input, headphone & speaker outputs with volume control and loudspeaker mute & mic mute buttons.
Also, the AVN-TB20AR & AVN-TB20AD which are 2 versions of the 20 station intercom. The AVN-TB20AR is the rackmount version and the AVN-TB20AD is the desktop. They share the same feature set as the AVN-TB6 units but have more station buttons allowing greater communication for larger facilities. They have 20 illuminated key-cap Talk buttons plus Listen & Page buttons. Unique to the 20 station units is a Phone button for remote dialling and control of external telephone hybrids, plus a GPIO button for triggering remote functions.
sonifex.co.uk
Top Related Stories
Click here for the latest broadcast news stories.