Broadcast News
28/09/2015
Sonifex Refit SIBC Entire Studios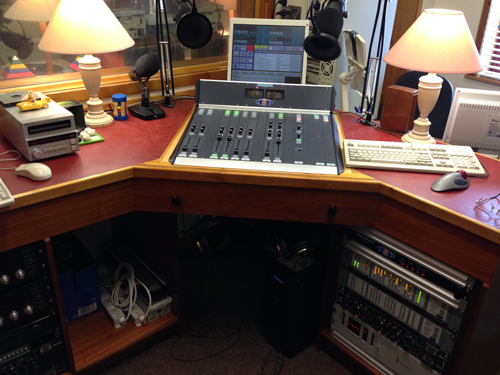 Shetland Islands Broadcasting Company (SIBC) is working to replace all of its equipment with new, up-to-date, Sonifex products.
Formed in 1985 and first on air in 1987, co-owners, husband and wife team Inga Walterson and Ian Anderson, had previously purchased Sonifex products, mainly HS cart machines, which remained in service until conversion to digital play-out in the early 1990s. The cart machines, tapes and spare were then donated to a radio station in Kukes in Albania with additional spares donated by Sonifex.
In the last three years, and with a planned completion in 2016, SIBC has been replacing all of its equipment including the transmitter, office, UPS, studios and playout system.
The choice of new studio broadcast mixing desks required a similarity to the previous Air2000 mixer, for familiarity of use, and they had to be of sizes to fit in the same spaces as the old desks with minimal carpentry and rewiring. This was mainly so that the station never went off air in the switch over.
The final choice was to purchase two Sonifex S2 broadcast mixers along with two Sonifex distribution amplifiers. As always Ian undertook all the installation work, while continuing to undertake his regular duties for the station. The production desk was installed in March 2015 and went on-air in May 2015.SIBC broadcasts to all of Shetland and parts of Orkney on FM 96.2 with one of the most powerful transmitters in ILR. SIBC streams on its apps, website and the likes of Radioplayer.
The Sonifex S2 Radio Broadcast Mixer is a small format, modular digital I/O analogue mixer which offers digital audio quality with analogue reliability in a modular format. It has both digital and analogue input channels, together with simultaneous analogue and digital outputs.
The S2 combines all the features needed of a radio broadcast mixer in a stylish, flush-mounting chassis : a wide range of input and output channels, PFL/cue, fader-start operation of equipment, automatic monitor muting on mic-live, light switching remote outputs, optional EQ on input modules, gram amp input options and 2 main audio buses, allowing you to broadcast on the PGM bus while recording on the AUD bus, with bus output selection on each module.
sonifex.co.uk/
Top Related Stories
Click here for the latest broadcast news stories.