Company:
Screen Subtitling Systems
Telephone:
+44 1473 831700
Address
The Old Rectory, Church Lane,
Claydon,
Ipswich UK,
Suffolk,
IP6 OEQ,
England

About Screen Subtitling Systems
Products
Screen has been linked to every major advance in subtitling technology for the past two decades. Screen has earned the distinguished reputation of being world leader in subtitling. 
R & D and technology, catering for multilingual, multichannel subtitling and captioning solutions for film, television, DVB, DVD Cable and satellite industries.
In 2011 Screen diversified by acquiring SysMedia Ltd, a leader in the fields of subtitle preparation and interactive / teletext / connected TV content production and publishing systems.
Expertise
We have over 40 years' experience of providing subtitling solutions to the broadcast industry. Our knowledge and expertise enables us to work with our clients to devise the best subtitling solution for their requirements.
Innovation
Since developing the very first electronic subtitling system back in the 70s, we've been associated with every technical advance within the industry. Broadcast technology and the needs of the subtitler is constantly changing and we work hard to provide subtitling solutions to fit with these new and emerging technologies and the ever changing requirements of the subtitler.
The way a large percentage of our market wants to purchase our products has also changed and so to meet these needs we've launched the ScreenStore offering convenient subscription options for our subtitle creation software.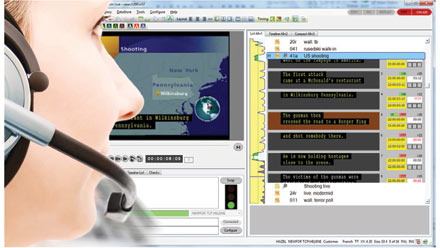 Dedication
We always do the utmost to ensure our clients receive the best possible service. We are flexible - we pride ourselves on our ability to understand exactly what our clients need and configure our systems to make it work for their worklows.
Support
Support for our clients doesn't stop once a system has been delivered. We have engineers on call 24 hours a day 7 days a week ready to assist. Our dedicated support engineers travel all over the world to visit clients to carry out installations and training.

Find Screen Subtitling Systems in
Location of Screen Subtitling Systems
Dubbing/Subtitling Sponsors

Screen, incorporating SysMedia is the most experienced supplier of captioning & subtitling, interactive & connected TV and teletext systems in the world.