Broadcast News
14/01/2016
PlayBox Technology Upgrades PlayBox Range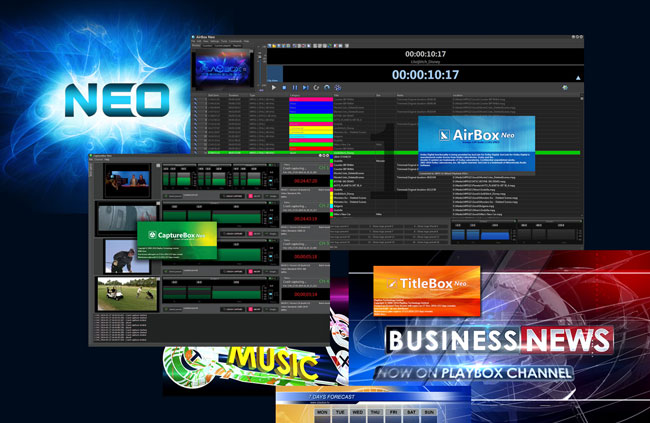 PlayBox Technology has released the latest updates to its PlayBox product range, including AirBox Neo, TitleBox Neo, CaptureBox Neo, and SafeBox Neo.
The upgrades include UHD compatibility, a high-efficiency user interface, and feature enhancements.
AirBox Neo playout server
AirBox Neo adds UHD capabilities to the content playout system which now supports UHD, HD and SD in single server. New features include a streaming input supporting HTTP, HTTP Secure, UDP, RTMP, MMS, MMSH and YouTube. RTMP Streaming Output improvements have also been added, enabling easy web streaming. AirBox Neo comes with a virtual output which now supports multiple instances. Third-party product support has been extended to Ross NK series routers and the Horita TR-100 timecode reader. Timecode can now be applied to MOV files. Multiple DeckLink cards can now be used for multi-channel ad insertion. Enhancements have also been made to the clip trimmer and audio level control. AirBox Neo is designed for 24/7 unattended operation, and can be operated manually, including the ability to handle live-to-air throughput.
TitleBox Neo on-air graphics and character generator
TitleBox Neo provides a wide range of interactive on-air graphics and titling capabilities which can be manipulated live. It includes improvements for dealing with UHD projects, as well as supporting HD and SD operation. A new API plug-in has been produced for use by PlayBox Technology development partners, allowing easy interfacing to third-party software devices. Enhancements have also been made in dealing with ODBC data providers and RSS feeds. TitleBox Neo provides total control during on-air session, including text selection, running speed and transitions. The TitleBox feature set includes horizontal crawling text, vertically rolling credits and messages, still and animated logo graphics, analogue and digital clocks, banner slideshows and chat text with automated horizontal or vertical scrolling. Among the additional creative facilities are pre-constructed graphic components, video resizing (from live source or file), window-style display and website content ingest.
CaptureBox Neo multichannel ingest server
CaptureBox Neo allows HD or SD content to be captured from up to four video sources simultaneously. These can be monitored on a single screen and controlled via a streamlined user interface with enhanced multichannel control and operability. Audio levels can be monitored as loudness/true-peak displays and adjusted when required. Ingested content is available for playback seconds after ingest commences. Capture lists can be imported from third-party traffic systems.
SafeBox Neo content and playlist replicator
SafeBox Neo replicates remote content to local playout server folders for safe transmission. It implements a new graphic interface as well as new faster processing for moving primary or copied content to the playout and central storage servers. A new workflow routine protects content being overwritten. Expired daily schedule content is automatically deleted or moved to a predefined folder for manual deletion or archiving. Deletion can be performed automatically or by manual approval of deletion lists. Files can also be assigned specific protection to prevent removal from network sources. SafeBox Neo can be operated in playlist-dependent or stand-alone mode.
"We have put a huge amount of time and effort into research and development since the recent board restructure, enhancing and expanding the PlayBox suite of products," said PlayBox Technology President Don Ash. "Neo is an evolutionary upgrade which will advance the PlayBox platform into the UHD era and beyond. It confirms our commitment to delivering the most efficient and future-proof playout and branding solutions."
"With a user base running at over 16,000 broadcast playout and branding channels, we are the world's number one product manufacturer addressing this business sector," added PlayBox Technology Chief Commercial Officer, Ben Gunkel. "Customers with valid Annual Software Maintenance & Technical Support can upgrade their existing PlayBox products to the latest Neo versions as a simple download. If they contact PlayBox Technology, we will be able to analyse their system and advise relevant upgrade options."
www.playboxtechnology.com
(JP)
Top Related Stories
Click here for the latest broadcast news stories.