Broadcast News
30/07/2019
Pixit Media To Unveil New Features To Its PixStor Intelligence Storage Plaform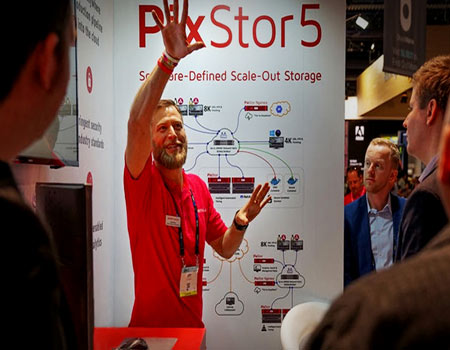 Pixit Media is set to unveil significant new features to its award-winning PixStor intelligent storage platform on Stand 7.D69 at IBC2019.
Purpose-built for Media and Entertainment, and fast becoming the storage platform of choice of major studios and international broadcasters, PixStor provides a future-proof and scalable environment that sits across and controls all commodity hardware, applications and systems in the workflow. It provides a unified view of all data in the global namespace - be that on-premise, multi-site, or in the Cloud - with unrivalled consistent guaranteed high-performance at point of use for all types of workflow.
Making its debut at IBC, the latest upgrade to PixStor simplifies storage management and global collaboration - offering a seamless user-experience from disk, desktop to the Cloud. With new secure container services aligned to audit-compliant standards, automated deployment to Cloud market-places and powerful AI-enabled Search, PixStor is an ideal solution for media organisations looking to streamline demanding Any-K workflows - saving both time and money.
New PixStor features include:
Secure container services: this new feature unlocks true multi-tenancy from a single storage fabric to enable broadcasters, studios and post-production organisations to easily deploy secure data environments, aligned to industry security standards - without crippling productivity and creativity.
Cloud workflow flexibility: PixStor expands your workflows cost-effectively into the cloud with fully-automated seamless deployment to cloud marketplaces, enabling hybrid workflows for burst render and cloud-first workflows. PixStor will be available in early September in both Google Cloud Platform (GCP) and Amazon Web Services (AWS)
Enhanced search capabilities – using the latest machine learning and artificial intelligence cloud-based tools to drive powerful media indexing and search capabilities, PixStor users can perform fast, easy and accurate content searches across the entire global namespace.
Deep granular analytics – with "single pane of glass management" and user-friendly dashboards, PixStor provides a holistic view of the entire filesystem and delivers business-relevant metrics to reinforce storage strategies.
Live remote collaboration with Google Cloud
Visitors to IBC will see PixStor in action across a range of broadcast, post-production and VFX workflows based on recent customer use-cases - delivering efficiencies from ingest, processing, staging, production to archive.
The live demo will connect the company's booth D69 in Hall 7 to the Pixit Media Lab in High Wycombe UK, where a complete real-world production environment has been created featuring a full complement of best-of-breed technologies, including NetApp E-series storage and Mellanox networking. The team will showcase management of the full content lifecycle from ingest via Google Cloud to multi-tenancy secure containers, enhanced search and global collaboration powered by Ngenea, Pixit Media's flagship data traffic mechanism.
Ben Leaver, Pixit Media's CEO and co-founder explained: "This latest upgrade to PixStor shows our continued leadership in delivering customer-focused solutions that enable media workflows to thrive – without vendor lock-in or any compromise in performance. We are really looking forward to demonstrating these powerful new features at IBC and sharing recent successful use-cases, so come by stand 7.D69 to find out more."
www.pixitmedia.com
Top Related Stories
Click here for the latest broadcast news stories.