Broadcast News
06/06/2019
Masstech To Exhibit Hybrid Cloud Storage And Workflow Solutions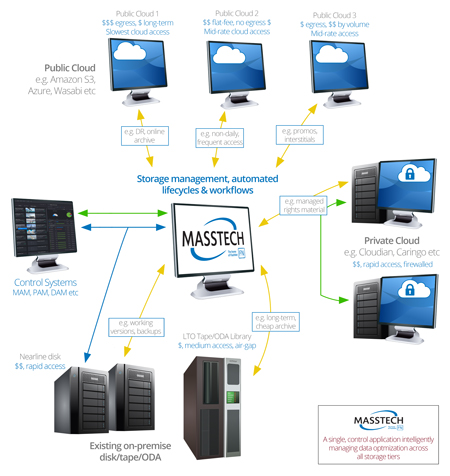 Masstech is to exhibit its range of hybrid cloud storage and workflow solutions, plus two new releases: Clover, a turnkey content suite that bridges the gap between content storage and content management, and a Federated Search feature for its MassStore media object framework at Broadcast Asia 2019.

Controlled Ascent: Smooth efficient transition to the hybrid cloud
Masstech will show how FlashNet, its industry-leading video-centric storage management solution, combines the true flexibility of hybrid cloud with intelligence, content aware workflows to power the next-generation of optimized tiered storage environments. Whether broadcasters are looking to the cloud as a logical next-step in expanding their existing storage, or want to break free from the restrictive cloud options of a current archive provider, Masstech offers highly-efficient cloud or hybrid cloud storage and the flexible pricing that will help them achieve operational and business targets.

"Allowing the integration of multiple private and public clouds into a single name-space, with the option to include existing or new on-premise storage, provides the highest degrees of flexibility, durability, efficiency, and cost-savings," said Mike Palmer, chief technology officer. "Compare this to siloed storage systems with independent buckets and disparate control layers which are not capable of these efficiencies. Masstech solves this issue, homogenizing multiple technologies and service providers into a single object storage name-space, transparent to the MAM, PAM or other management system."

Clover: The complete content suite
Clover is a comprehensive content suite that bridges the gap between content storage and content management for video-centric organizations that are not looking to implement enterprise-level MAM and content storage systems. Clover is a unique, all-in-one solution that offers ingest, storage, transcoding, a configurable workflow engine, content lifecycle management, and a simple UI with a full broadcast toolset and a budget-oriented price tag.

Clover comes with pre-defined tape or cloud-based storage, integrated transcode and user-customizable workflows that allow users to automate content processing and delivery into multiple formats. The solution also has a simple, intuitive user interface with integrated media player that allows users to archive, view proxies, scrub, mark in- and out-points. It also enables partial file restore and embed content with enriched metadata that enables users to find their assets quickly and retrieve them with one click.

Federated Search: One simple query to return content across multiple systems/locations
Masstech is also showing Federated Search, a powerful new feature that enables Masstech users to locate and retrieve assets stored across multiple Masstech systems wherever in the world those systems might be physically or virtually located. Visitors to the Masstech booth can see how Federated Search makes true global content sharing a simple reality, even when using disparate production and Media Asset Management (MAM) systems.

This new ability to locate and retrieve content from physically or virtually disparate locations is not the only feature of Federated Search that has broadcasters excited. "One of the things that our customers have asked about is the ability to not only search across sites, but within systems from differing vendors," continued Palmer. "Federated Search enables organizations such as these to search and retrieve assets from across their entire storage pool, regardless of the MAM or PAM that created and processed the content."

Visitors to Broadcast Asia 2019 can see Federated Search in action on the Masstech booth, 6J2-03, Level 6, UK Pavilion, along with Clover. Visitors can take advantage of a limited time introductory pricing for the content suite.
Top Related Stories
Click here for the latest broadcast news stories.