Broadcast News
21/06/2019
De Sisti Piccoletto Range Now Improved With True Vari-White Fixture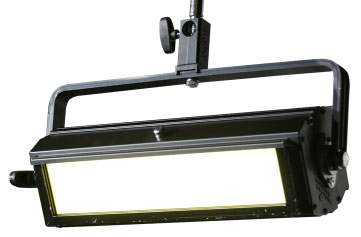 The De Sisti Piccoletto range has now been enhanced with a true Vari-White fixture in addition to the existing Tungsten and Daylight versions.

The fixture is designed for battery or main power operation making it ideal as a true keylight in location and vehicle type shoots as well as in studios or built into drama sets. The 30 watt fixture features an LED cob with warm and cool sources allowing the user to select any colour temperature between 2800°K and 6500°K. The user may select continuous colour temperature variation or changes in steps of 400°K aimed at TV users. The Piccoletto Vari-White features an improved larger on board display with easier access to the menu functions. This is not being added to the standard Daylight and Tungsten versions.

The fixture is complimented by the 60 watt Soft Led 1 Vari-white fixture. This has exactly the same user configuration menu selections at the Piccoletto complimenting one another for lighting subjects with a dramatic edge, using the key, and lighting without shadows using the soft. This has proved to be a perfect combination with 4 studios for Radio 5 in Salford and 1 in London, BBC Wales has just ordered 5 studio solutions with Virgin Radio now operating with 2 systems and Talksport and Talk Radio operating a further 4 studios. All are utilising the De Sisti D track which has three power circuits and also a data bus for Dali or DMX. The track is normally suspended on 2mm stainless steel rope so that suspension through acoustic tiles is possible without interrupting the acoustic properties. The lighting solutions are all controlled by the excellent IPE IDS system where a touch screen user interface is provided by the presenter who can then control individual lights or select memories created to provide some different lighting states. De Sisti UK is working with IPE to delivery two solutions for BBC Mailbox Radio Studios in Birmingham where combinations of De Sisti Vari-White Fresnel's and Rosco soft panels are being provided.

De Sisti are in the process of shipping 147 lighting hoists to the Riverside Studios in Hammersmith together with an De Sisti AED touch screen hoist control system offering variable speed and positional height recording in addition to the two preset control and geographic mimic type layout. The hoists are being installed by the De Sisti UK installation team. The motorised lighting hoists have been uniquely designed to the requirements of Riverside Studios, operate on a single phase supply due to the installation of an on board inverter, incorporates an ETC Gateway built into the body of the hoists such that each hoist connects directly to the lighting network giving DMX and network connections on each hoist.

De Sisti will be exhibiting at IBC from 13th to 17th September 2019 and you are most welcome to visit us where a number of new products are being launched. De Sisti UK offer a free loan service for most luminaires to give users a chance to put them into the rig and to check the performance.
More Broadcast Lighting Equipment Stories