Broadcast News
12/04/2019
Vortex Introduces SmartStream™ To Its CallMe Low-Cost IP Audio Codecs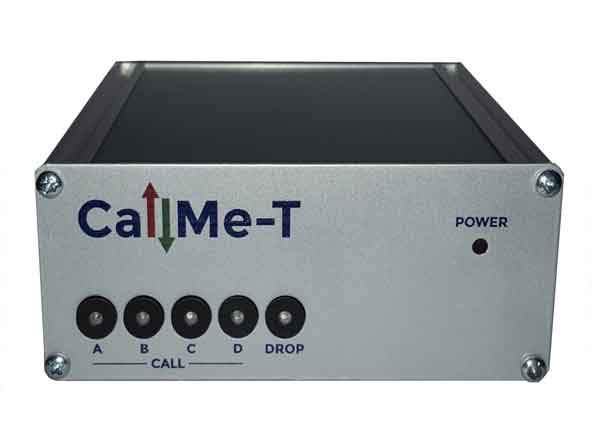 Vortex introduced SmartStream™ to its CallMe low-cost IP Audio Codecs at NAB 2019 in Las Vegas and demonstrates CallMe Analytics Server data for Live and completed calls.
CallMe-T low-cost IP Audio Codecs – now available with SmartStream™ - support Opus and G.722 audio coding algorithms with balanced stereo audio inputs and outputs, Ethernet connectivity plus Audio USB. They are housed in small desktop enclosures whilst for larger installations, 4x can be mounted side-by-side in 1-U.  CallMe-T (as in "ET - phone home") was designed as a low-cost hardware back-end for CallMe Click-&-Connect but as a result of customer requests to use it with the huge installed base of ISDN Mixers to use them over IP, we now have two versions.  
CallMe-TS (Studio Codec) use standard algorithsm and protocols and are of course compatible with most manufacturers' IP Audio Codecs.  CallMe-T has balanced stereo inputs and outputs on ¼" Jacks plus RJ45 Ethernet connectivity and a web interface for control and setup.  The USB Audio Interface allows direct connection to low-cost plug-in audio mixers, full-blown ISDN Commentator Units or USB Headsets - ideal for reporters contributing from a "Home Studio".  Now with SmartStream™ multi-destination streaming capability, CallMe-T has also found its place in providing 4-wire connectivity between sites and high quality audio distribution over IP.  
CallMe-TR (Remote Codec) has the same connectivity as CallMe-TS but with the addition of dedicated "Quick Dial" buttons to make and disconnect calls to 8 stored destinations each of which includes the codec configuration - in addition to using the in-built web interface - making it ideal for remote use and Outside Broadcast.  
Being introduced at NAB, SmartStream™ multi-Destination streaming provides resilience and allows simultaneous connection to two (or more) destinations, with the possibility also to choose which audio channel or channels is sent where.  It is a bit like having a number of codecs in one little box making it extremely flexible and ideal for News and Sports Outside Broadcast where connection to multiple destinations is often required.  Each QuickDial location can include destination information plus the audio channel or channels that are to connect to it (Left only, Right only or Both).  
CallMe also offers Broadcasters the possibility to gain access to Server Analytics for each call in real-time and historically which is extremely useful in resolving issues of connectivity etc and helping avoid the same thing happening again.  Broadcast Subscribers can log directly into their CallMe Server Account where a complete list of their current and historic call connections is available.  Information is stored for each call and can be accessed, showing showing Call Time & Duration and then statistics every step of the way - between the Contributor's Browser and the CallMe Server and on to the Studio Codec.  Graphical displays show Packet Loss, Jitter, Connection Bitrate and Round-Trip Delay providing invaluable engineering information in real-time and after the event.  
With a number of Enterprise customers using CallMe on a regular basis, embedded help for users shows contributors pertinent information relating to any specific issue that may impact on the ability to connect, with straightforward instructions on how to solve it.  
CallMe Click-&-Connect  provides a new concept in IP Audio Connectivity, making it simple for guest contributors and reporters to send broadcast audio back to the studio from virtually anywhere with Internet connectivity.  Calls connect through their web browser to the Station's own dedicated and branded CallMe page on the CALLME.FM Cloud Server, connecting with low-latency high-quality audio to the chosen Codec back at the studio.  Most IP Audio Codecs are compatible with CallMe.
www.vtx.co.uk
Top Related Stories
Click here for the latest broadcast news stories.