Broadcast News
18/09/2018
Vortex Unveiling CallMe Cloud Codec & CallMe-T Audio Codecs Upgrades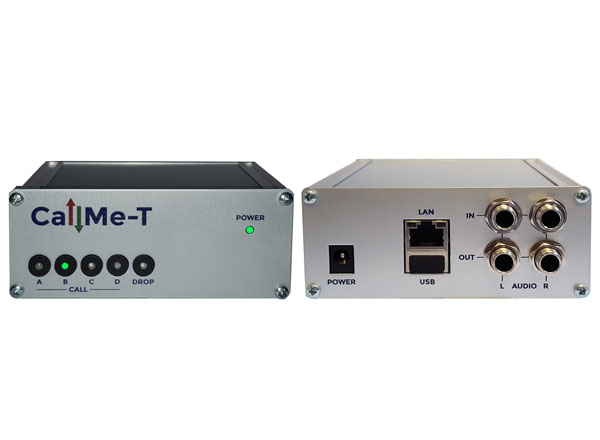 Vortex is introducing ground-breaking enhancements to its CallMe Cloud Codec and low-cost CallMe-T audio codecs at IBC.
A couple of years ago, Vortex introduced its CallMe Click-and-Connect cloud-based contribution codec that let broadcasters put guest contributors and reports "live" on-air without the need to download special software or have their own IP codec. It was originally developed as an add-on to make further use of the very large installed base of IP audio codecs by allowing third parties to connect with high-quality audio from mobile phones, tablets, laptops and computers.
It became clear however, that many smaller Community and Hospital stations simply could not afford even a bottom-end full-blown codec and were relying on consumer applications streaming to computers back at the studio, often with mediocre results as one might expect. True, it was better than nothing, but how much better if there was a reliable, simple, low-cost IP audio codec available and a web application that was designed for the job.  And that is how CallMe-T (as in ET Phone Home) came about. Designed originally as a hardware back-end for CallMe Click-and-Connect, it sits on the internet at the station providing balanced stereo audio in-and-out with a web interface for control. Contributors and reporters connect to it using their mobile phone browser or desktop computer providing live 2-way 15kHz stereo audio with low-delay. Maybe not as good as a multi-streaming codec with all the bells-and-whistles but CallMe provides a huge step up from the domestic solution.
Almost by accident, it was suggested that if two CallMe-Ts could connect to each other, this would make an ideal low-cost solution for converting the huge installed base of ISDN Codec/Mixers for use over IP and the internet.  Users know and like the operation of the mixer part but instead of dialling over ISDN, the output is now fed into a CallMe-T which connects to the studio over IP. The studio version CallMe-TS has only a web interface for control but the request was for some "Quick Dial" buttons and CallMe-TR (R for Remote) was born, first with 2 programmable buttons – now with 4 –that connect to pre-set destinations, making it easy for reporters to link to the studio without the need to use the web interface. The latest introduction this IBC is again in response to requests to allow connection of an external USB Mixer and new for IBC is CallMe-TRM providing additionally USB connectivity. As a low-cost Opus / G.722 stereo codec, CallMe-T has also found its place in providing 4-wire connectivity between sites. Up to four can be mounted side-by-side in 1-U and a recent enhancement now offers multi-streaming for high-quality audio distribution.
With a number of Enterprise customers using CallMe on a regular basis, the provision of embedded help for users became important. CallMe now shows contributors information relating to any specific issue that may impact on the ability to connect with straightforward instructions on how to solve it. This may include trying to use an out-of-date browser or failing to select the microphone or poor internet connectivity where the help screen provides clear contextual information.  
For the Broadcaster, Vortex is introducing at IBC the capability to access analytics for each call both in real-time and historically. If a call does fail – we are using the internet after all – it is useful to be able to see just where things fell down which helps to avoid the same thing happening again. Self-service management is also being introduced with the ability to create CallMe links and custom CallMe pages. CallMe Click-and-Connect is compatible with most IP Audio codecs.
This article is also available in the September edition of Broadcast Film & Video. Here.
Top Related Stories
Click here for the latest broadcast news stories.