Broadcast News
20/07/2017
CallMe Provides Broadcasters With Easy-To-Use Audio Over IP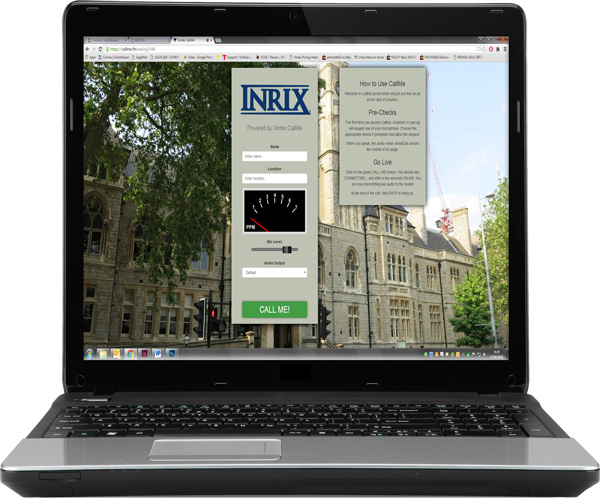 CallMe is a cloud-based communications platform for audio codecs which handles all the complicated stuff and provides the user with a simple click-and-connect experience.
Guest contributors dislike being on-air on a phone line; their voice sounds "thin" which gives the impression that their opinions are alas "lightweight". The solution in the past has been to get the guest to the studio or send a reporter around – or have them purchase their own high-quality audio contribution equipment such as an audio codec. With CallMe, the studio simply sends a web link which can be accessed on a computer or mobile device which links them to the station's own branded web platform, connecting them directly to a codec back at base in full broadcast quality. With the RemoteMix One or other professional audio interface, callers will sound just like they are in the same studio. Each station has its own customized portal and the back-end device can be an existing codec or one of our new low-cost CallMe-T IP audio codecs.
CallMe also provides the ideal solution for regular contributions from external partners. Vortex has recently worked with INRIX, a global data and software services company providing comprehensive traffic information to a large number of users, to develop a CallMe configuration for their remote bulletins across different platforms. Steve Perry, Senior Engineer with INRIX, explained: "We have adopted CallMe as the standard for delivery of live, high-quality travel news services to our client base, including both BBC Local Radio and commercial stations."
The presenters, based at INRIX's travel centres across the country, sound like they are right there with the host in the studio thanks to CallMe's high-quality, low-latency audio. Feeds are generally received using Comrex ACCESS codecs, of which there is a huge installed base, but over time, stations are installing CallMe-TS low-cost studio codecs dedicated to traffic news.
CallMe puts the station in control, with dedicated links which determine which back-end codecs contributors can call into and at what times, as well as optional password protection to keep out unwanted callers. Each CallMe portal can be configured in '64kb/s' mode for contended consumer networks or '128kb/s' for even higher quality over more reliable connections, providing up to 20kHz two-way audio. 'Listen Live' links are also part of CallMe, providing a webpage dedicated to sending audio streams to multiple destinations simultaneously from a single designated studio codec. A new admin interface will be launched soon to allow stations to take control of all these features and keep track of connections.
CallMe is compatible with a wide range of existing back-end codecs, which use the SIP protocol to connect to the CallMe server. By default, it makes use of the remarkable Opus algorithm, which is equally capable of handling speech or music, with fallback to G.722 for devices which don't support Opus.
The CallMe-T hardware can also operate as a standalone codec with stereo audio in and out, again with support for Opus and G.722. A pair of CallMe-Ts provides the ideal low-cost combination to convert ISDN mixers, commonly used for sports commentary, for use over IP as ISDN disappears from the scene.
www.vtx.co.uk
Top Related Stories
Click here for the latest broadcast news stories.