Broadcast News
24/01/2019
PBT EU And O-Video Create 'Virtual' CG News Studio For NCN TV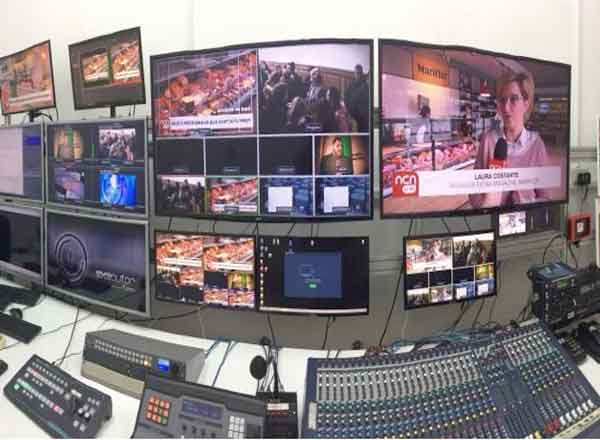 PBT EU has announced it collaborated with Romanian reseller-partner O-Video to create a "virtual" computer-generated (CG) news studio for NCN TV.

The news station was designed by the O-Video team using PBT EU's customised solutions implementing PlayBox Neo equipment.

The PlayBox Neo workflow included a main news studio, 5 playout channels with a Production AirBox Neo and TitleBox Neo. Other additions included an MCR, video wall, and a secondary studio with display and backup playout channel with interactive CG and integration for Sony ODA and Panasonic cameras.

Owner of NCN TV, Liviu Alexa had heard of various projects PBT EU and O-Video had undertaken and was intrigued. The PBT EU team demonstrated that PlayBox Neo, AirBox Neo and TitleBox Neo were the best solutions for his news studio, and he was sold on the idea.

"We could have bought any other solution, but we chose not to. Relying on O-Video's technical expertise, we chose PlayBox brands specifically. We learned from first-hand experience about PlayBox Neo and that the solution created by PBT EU was perfect for us:- it is reliable, user-friendly, with a smart architecture as well as a team ready to help us at all times," Liviu noted.

PBT EU's sales director Alex Stoyanov commented: "NCN TV is a company that is going somewhere and is another fine example of the important role that the Romanian digital media market plays in technology and how it influences business acumen. This project demonstrates how solid team work between high calibre systems integrators such as O-Video and PBT EU results in a successful outcome for clients. It is a testament of how long-term relationships built on trust over decades, brings in excellent results. Looking ahead, the next logical step is to introduce the PBT EU's own brand EXEcutor Media Integrator to NCN TV to future-proof the workflow – watch this space!"
Top Related Stories
Click here for the latest broadcast news stories.