Broadcast News
06/12/2018
Sennheiser Celebrates 20th Anniversary Of Its Evolution Microphone Series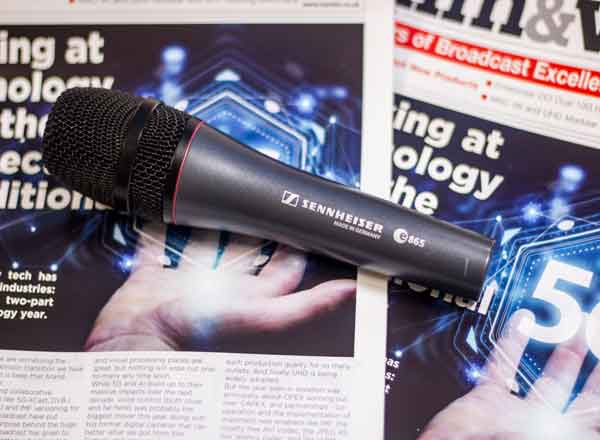 For Sennheiser good sound is not enough. The firm wants to achieve perfect sound and make it come alive - and with its new evolution microphone series Sennhesier has almost certainly achieved this.
Sennheiser kindly invited me to celebrate the 20th anniversary of its evolution microphone series in Soho, London, and I was very grateful to accept. I quickly boarded a plane and made my way to the prestigious event where many experts in the industry shared their experiences of using Sennheiser evolution microphones - and so the fantastic evening of audio storytelling began.
The host, Jamie Gosney, who has worked in the pro audio industry for over four decades, kicked off the event in style and immediately made the audience feel at ease as he introduced the expert panel, which included Michael Polten, former Director of Customer Relationship with Sennheiser, Martin Fisher, Senior Product Manager, Sennheiser, Andrew Lillywhite, Customer Development & Application Engineer, Sennheiser, Pete Malandrone, guitar Technician to Dr Brain May CBE, Joe Campbell, Monitor Engineer who works with singer Adele and Chris Denman, Group Live Producer & Sound Engineer at Global Radio.
Polten spoke about the the initial launch of the Sennheiser evolution series in 1998. The company's willingness to take a risk paid off through a comeback in the music microphone industry that was nothing short of spectacular. The original models of the evolution series included the wired vocal microphones e 825, e 835 and e 845, as well as instrument microphones e 602, e 604, e 608 and e 609, with more models added over time.
Polten also discussed the launch of the first microphones of the 900 series and the evolution wireless G2 series which revolutionised the set-up of wireless systems.
Lillywhite, who works very hard behind the scenes and makes sure every request is met at major events, talked about how the firm always listens to what the consumer wants.
He also discussed how the firm makes some beautifully sparkly microphones for stars such as Snoop Dog.
He said: "The Snoop Dogg one was special, it has to be said. Snoop Dogg was hosting the 2007 Frankfurt MTV European Music Awards and Snoop's manager turns up with his mics in a little brief case.
"I was not really prepared for what I was going to see when I opened the briefcase up. He handed me the briefcase and said, "I'm off. I'll be back in an hour." I had plenty of time to do what I had to do and so I opened the briefcase up and the mics inside were not just diamanté encrusted, they had huge knuckle guards on them - and they weren't the normal Swarovski crystal glass. These were real gems stuck on and they had also been silver plated.
"I thought, "I have a wife and family at home. If anything happens to these… well, this bloke has seen my face, he knows who he handed them to". Half an hour into the job, the crew said that it was lunch time, that they were off to catering and left me. I thought, "I'm not leaving these". I wish I could show you a photo as they were spectacular. One of them had his name on: Snoop Dogg all across the knuckles. The other one was in the shape of a huge ganja leaf, which the TV director declared would be the spare. I think they were priceless, irreplaceable, which is definitely how I felt about them at the time!"
Guitar technician Malandrone has worked with Dr Brian May CBE from 1994 and he spoke of how Brian relies heavily on Sennheiser mics at his concerts and how the firm continues to help and support him if he is ever faced with a problem.
Nearing the end of the fabulous evening of audio storytelling Gosney handed out a Sennheiser microphone used by the one and only Sir Elton John!
But one of the best things about the whole evening was not only meeting with the top industry experts but I also got the chance to build my very own Sennheiser wireless microphone.
Employees at Sennheiser took me through every step, from the construction process right through to the finished working product which now has pride of place on my living room mantlepiece. It was such an enjoyable once in a lifetime experience and with the team of experts on hand they talked me through everything and made it look so easy.
However, one very important point I must make about Sennheiser is that they not only value their clients immensely but they continue to deliver superb service and go above and beyond to help all of its consumers.
The firms developers, with their design and music expertise, know which refinements to make to achieve the best sound quality ever.
So what's next for the Sennheiser evolution series which already has the right microphone for everyone, watch this space. Every detail counts for perfect sound.
I would also like to personally thank Sennheiser for including me in their celebrations and I cannot wait to see what the next 20 years will bring for for the firm.
Click
here
to view this article online.
Top Related Stories
Click here for the latest broadcast news stories.