Broadcast News
11/08/2014
Sennheiser Attends Liverpool Institute Of Performing Arts Graduation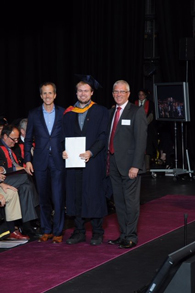 This July saw Sennheiser attend the Liverpool Institute of Performing Arts (LIPA) annual graduation ceremony to reward students for performance in initiatives that the company sponsors.
Taking place 31 July and attended by LIPA co-founders Sir Paul McCartney and Mark Featherstone-Witty, Sennheiser CEO Dr Andreas Sennheiser and the company's president of global sales Paul Whiting were present to hand out awards to this year's Sennheiser-sponsored students.
2011 Sennheiser Scholarship winner Tomos Pierce graduated from LIPA, having enjoyed the benefit of Sennheiser's support and experience during his time at the Institute.
"The application process for the Sennheiser Scholarship is designed to ensure that we support an outstanding student, who will go on to great things in the professional sound industry," says Paul Whiting. "Tomos has a very bright future and I'm sure that both we and the industry will be seeing much more of him."
"Being awarded the Sennheiser Scholarship was tremendously helpful during my time at LIPA," says Tomos. "Quite apart from the funding, being able to tap into the company's wealth of experience and contacts has made a huge difference. I am really grateful for their support and hope we will be able to work together in the future."
Dr Andreas Sennheiser and Paul Whiting also presented the Sennheiser Student Achievement Award to William Rice for his product knowledge and sound engineering work whilst at LIPA, and the Sennheiser Studio Excellence Award to Tom Ignatius Wee Shi- Han, for his consistent excellence in studio recording. Both were presented with pairs of Neumann KH120 monitors and Sennheiser HD25 headphones.
en-uk.sennheiser.com
(IT/MH)
Top Related Stories
Click here for the latest broadcast news stories.