Broadcast News
21/11/2018
Dejero Launches New Features Within Its Cloud-Based Management System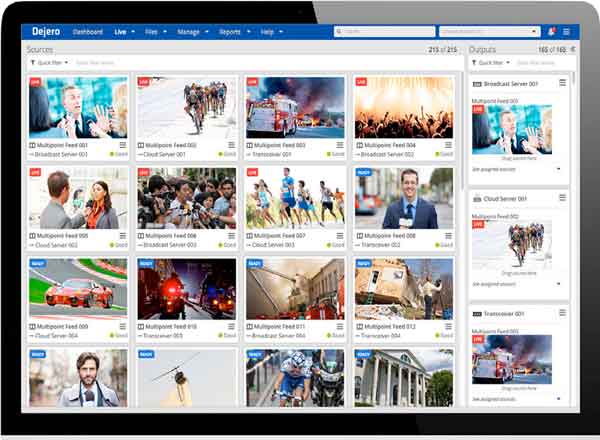 Dejero has launched a range of new features within its cloud-based management system, Dejero Control.
The expanded capabilities of Control further simplify the workflows of broadcasters and content providers enabling expanded device sharing and metadata generation.
Leveraging the integrated cloud workflow, a new automated and customizable recorded clip metadata feature allows users in the field or back at the control room to edit and add metadata to clips via the Dejero Control interface. Station administrators can create a custom metadata template that is used across all clips to add relevant auto-generated metadata defined by the templates. Users at the station can now quickly search and find relevant content — saving them significant time.
A metadata template is applied to all ingested clips at the station level and users can select from a list of ten pre-set fields, such as geolocation and acquisition date — all auto populated from the transmitter. Customers can also add free-form fields that station operators can define to further organize recorded clips.
"It can be very inefficient and time consuming for broadcasters to find relevant content in their systems. With our new metadata feature, we are providing a means for broadcasters and media organizations to automate the generation and tagging of metadata, saving them valuable time and enabling them to speed up content retrieval and automate metadata driven workflows," said Todd Schneider, chief technology officer at Dejero.
The system now offers an expanded device sharing capability that allows broadcasters to temporarily route a feed from a field transmitter to a partner station or broadcaster. Building upon this capability, broadcasters can now also share access to receivers. This adds flexibility to how stations integrate with other stations or freelancers in the field. Dejero customers can now send or receive video with the transmitters and receivers set up within the 'device sharing' feature in Control.
The simple UI of Dejero Control allows station operators to provide freelancers or other collaborators access to route content, while a cloud-based infrastructure permits device sharing to provide secure, controlled interoperability between stations and freelancers.
www.dejero.com
Top Related Stories
Click here for the latest broadcast news stories.