Broadcast News
06/02/2015
Dejero To Demo Newsgathering Solutions At NAB 2015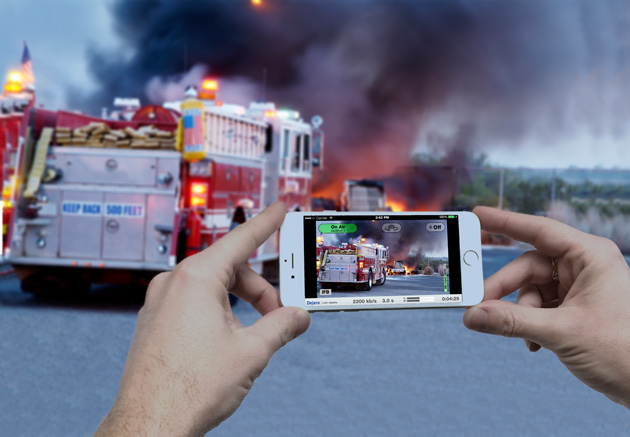 At this year's NAB Show in Las Vegas, Dejero will demonstrate its range of IP video contribution and cloud-based content management solutions for electronic newsgathering (ENG) and remote broadcasting.
Dejero LIVE+ Control — Cloud-Based Management, Monitoring, and Reporting
Dejero will showcase LIVE+ Control, a cloud-based management, monitoring, and reporting tool that aims to simplify IP video workflows used in remote broadcasting productions. LIVE+ Control manages all Dejero LIVE+ video transmission solutions including the GoBox, VSET, NewsBook, and Mobile App. By accessing the LIVE+ Control interface from any Web browser, users can geolocate and remotely control their entire fleet of field transmitters. They can monitor connection and transmission performance, including real-time analytics, and preview and route live and recorded feeds to a LIVE+ Broadcast Server for traditional playout or to a LIVE+ Cloud Server for distribution to Web and mobile devices.
Dejero LIVE+ GoBox — Rugged, Portable Transmitter
Making its NAB Show debut, the LIVE+ GoBox is a mobile transmitter for newsgathering professionals and video content contributors on the move. Dejero's newest portable transmitter enables mobile journalists to broadcast live with bonded cellular, Wi-Fi, and portable satellite connections, or record up to 40 hours of HD video for later broadcast. The GoBox can be set up anywhere to transmit low-latency HD or SD video.
Dejero LIVE+ Cloud Server — Simplifying Online Video Distribution
Dejero will demonstrate how live content from multiple app-enabled smartphones and tablets can be managed in the cloud and combined with cloud servers to deliver live broadcasts from multiple locations and points of view to online viewers.
Dejero LIVE+ NewsBook Software for Mac
Dejero's new LIVE+ NewsBook software transforms a Mac notebook into a 'go-anywhere' video uplink solution for transmitting live HD or SD video feeds, as well as recorded and edited files, back to the broadcast facility.
Dejero LIVE+ Mobile App — New Features Including 1080p
The Dejero LIVE+ Mobile App enables mobile journalists (MoJos) and video contributors to broadcast live with their smartphones or tablets. The solution is aimed at covering breaking news, impromptu interviews, and live events, and provides a backup system if the primary camera or transmitter fails. Dejero will highlight the latest features and enhancements of the LIVE+ Mobile App including support for video resolutions up to 1080p.
"In addition to our industry leadership in mobile contribution encoding and IP video transport with bonded cellular technology, Dejero is a key innovator in the use of cloud technologies that help broadcasters reduce costs, realise operational efficiencies, and capture online viewers," said Brian Cram, CEO, Dejero. "At the 2015 NAB Show, we'll showcase not only our full range of transmitters in multiple form factors, but our cloud management and cloud server solutions that simplify content management, routing, and distribution to TV and online viewers."
www.dejero.com
(IT/JP)
Top Related Stories
Click here for the latest broadcast news stories.