Broadcast News
08/11/2017
Dejero Announces Two New HEVC Products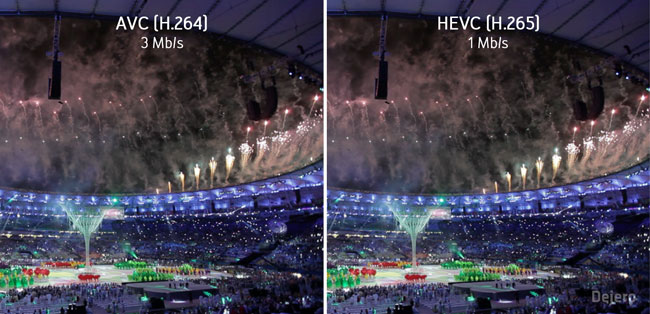 Dejero has announced two new products to support HEVC (H.265) encoding and decoding; the Dejero PathWay and Dejero WayPoint.
Both products enable the use of HEVC video compression in support of remote and mobile broadcasting – a feature that is relevant to on-location teams working with limited bandwidth.
The Dejero PathWay 1U rack-mounted encoder/transmitter is designed for installation in vehicles or fixed locations. It is available in two different configurations – an Ethernet configuration that includes two Ethernet ports for satellite (Ku- and Ka-band, BGAN) or wired IP network (LAN/WAN) connectivity; and an Ethernet and cellular configuration offering up to six cellular connections.
PathWay supports both HEVC and AVC (H.264) encoding, providing automatic detection and immediate backwards compatibility with existing or legacy AVC-based Dejero receivers. The encoder/transmitter, which contains internal Wi-Fi, is also compatible with the recently launched Dejero CellSat blended cellular and satellite solution.
The Dejero WayPoint is a four output 1U receiver, that supports HEVC decodes to SDI or IP (MPEG-TS over IP) playout workflows. It also supports AVC decoding of feeds from legacy transmitters. The receiver comes with dual redundant power supplies and data redundant RAID storage capabilities.
Bill Nardi, VP Broadcast Integration and Global Support at Dejero, said: "We're leveraging the efficiencies of HEVC while applying novel techniques such as real-time adaptive bitrate control and our unique auto-transport technology where resolution can be changed on the fly, within the transmission. Using HEVC, Dejero can enable video transmission with as little bandwidth as 1 Mb/s, or even less, and still deliver good picture quality. By supporting HEVC compression, we can further enhance picture quality when broadcasting with limited bandwidth and deliver a better viewer experience."
www.dejero.com
(JP/LM)
Top Related Stories
Click here for the latest broadcast news stories.