Broadcast News
02/08/2018
Dejero To Display Latest Connectivity Solutions At IBC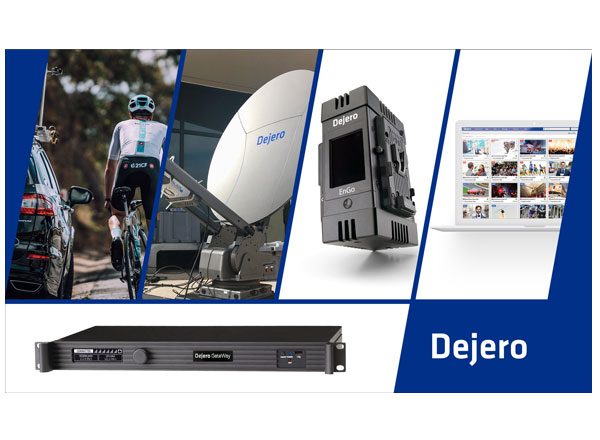 Dejero is to display its latest innovations in connectivity solutions at IBC 2018 in Amsterdam, 13-18 September.
On stand 11.C15, the company will showcase its award-winning CellSat solution, the new six modern GateWay router and its latest mobile transmitter.
CellSat connectivity service
Providing enhanced reliability in situations where cellular networks are congested or cellular coverage is limited, Dejero CellSat now includes a new midstream activation feature, simplifying switching between cellular-only and CellSat transmission paths, without having to stop and restart the transmission. CellSat midstream activation puts greater cost control in the hands of broadcasters when contributing high-quality video content from the field.
Dejero CellSat intelligently blends cellular connectivity from multiple mobile network carriers with Intelsat's Ku-band IP satellite connectivity to provide the necessary bandwidth on demand to deliver exceptional picture quality and greater reliability while on location. Dejero CellSat recently enabled Canada's Global News and Entertainment Tonight to deliver 7 hours of on-location live coverage of the Royal Wedding.
Enhanced reliability for GateWay mobile connectivity
Dejero is showcasing its new GateWay M6E6 router for high-throughput bidirectional data transport. Six embedded modems allows the use of SIMs from a greater number of mobile network providers, resulting in greater carrier diversity, boosting reliability and throughput. Now featuring six Ethernet ports, the GateWay router provides greater flexibility in connecting networking equipment and additional transmission paths, such as satellite.
The GateWay solution allows crews working on location to access their newsroom or media asset management systems, quickly send and receive large files, access cloud services, communicate with their colleagues via VoIP, and enables any other application requiring internet access. This robust mobile connectivity solution was recently put through its paces by Team Sky during its victories at the Giro d'Italia and Tour de France, where terrain, network congestion and weather has typically presented connectivity challenges.
More processing power in latest mobile transmitter
As the broadcast industry shifts towards the HEVC video compression standard to efficiently transport high quality video from the field, the latest Dejero EnGo is equipped with increased processing power to boost overall performance and deliver enhanced picture quality. Combining Dejero's auto-transport and adaptive bitrate encoding technology with the newest compression standard, Dejero continues to boost video quality in the industry's most versatile and robust mobile transmitter, mountable on a camera, worn in a backpack, or mounted in a vehicle.
In addition to enhancements to Dejero CellSat, Dejero GateWay and Dejero EnGo, the company will also demonstrate the latest updates and preview upcoming features to Dejero Control, its cloud-based management system.
"Reliable connectivity is critical for content contribution from the field, supporting more efficient remote production workflows, and enabling emerging workflows in the cloud," said Kevin Fernandes, vice president of sales at Dejero. "We are looking forward to demonstrating the latest video transport and connectivity solutions to visitors at IBC, and discussing how we can help broadcasters and media organisations save time and reduce costs in their connected workflows."
The 2018 IBC Show takes place at the RAI in Amsterdam from 13-18 September.
www.dejero.com
Top Related Stories
Click here for the latest broadcast news stories.