Broadcast News
11/06/2018
BFV's Big Interview: Finepoint Broadcast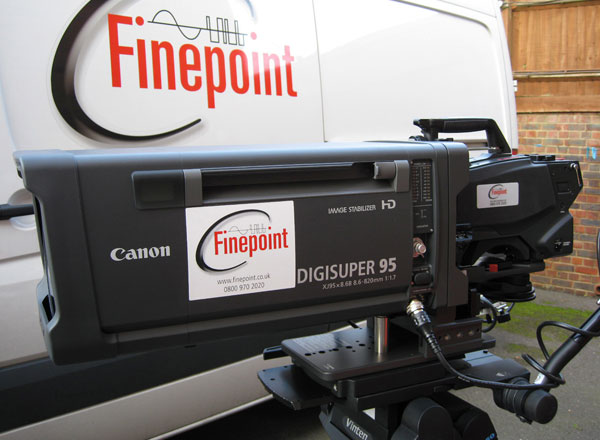 Broadcast Film & Video exclusively talks to Giles Bendig, the Managing Director of Finepoint Broadcast.
The firm has been supplying broadcasters with a wide range of production and OB equipment for over 35 years which is always complemented with a unique blend of exceptional service and extensive product knowledge.
Giles discusses the acceleration in demand for high speed cameras to deliver slow-motion coverage of sports and future plans for the company.
Finepoint Broadcast has been a major industry name for many years. Can you tell us a about its position in the industry and how it has changed.
Giles Bendig, Managing Director: "Finepoint Broadcast Ltd offers a very wide range of services including broadcast hire, equipment repairs, new and used broadcast equipment sales and AV equipment sales. Coupled with our extensive in house knowledge base we can be a complete technology partner for our clients.
We have been supplying broadcasters with a wide range of production and OB equipment for nearly 35 years. Incorporated in January 1984, it started primarily offering a dry-hire service at a time when hardware was very expensive and the equipment itself needed a great deal of maintenance.
Renting from Finepoint shields our customers from the high capital cost of buying project-specific kit or expanding their infrastructure to meet a specific challenge. We also provide the tender loving care needed to ensure returned equipment was maintained in first-class condition.
The company has always been known as a family run company, does this reputation benefit Finepoint and its customers?
Finepoint Broadcast was founded by my grandfather, Allen Bendig, who is now retired but still takes a keen interest in the company as our chairman. Allen moved to Kenya in the early 1950s, after his time in the army to join the police force there in the scenes-of-crime department. One of the roles of the job was to take photos of murders and serious crimes. He later became a wildlife cameraman and picked up a lot of second-unit work from Paramount and ABC TV New York, which was shooting wildlife sequences for their movies.
When Kenyatta took power and Kenya became independent, Allen moved himself and his young family to America as that was where all his contacts were. ABC TV New York took him on. After several successful years they moved back to the UK at a time when video was starting to make headlines. He started Allen Bendig Film Services, renaming it Finepoint Broadcast as we were at the 'sharp end' of the business.
I joined the company 12 years ago, initially as an ad-hoc driver and then full time in Despatch. I moved around the business working in every department to gain a better understanding of how the company operated. I became a director after six years and MD in 2015. If that sounds like an easy entrée, it isn't! You have your entire family watching to ensure you keep the business running successfully. What really counts is that the company is independent and can respond to industry developments quickly. My colleagues and I make our decisions as a team based on front-line experience rather than via a third-party command chain. Our customers recognise and appreciate that as well as our consequent price competitiveness.
Following the recent news of the appointment of Clive Northen as the new Hire Manager, what do you think Clive can bring to the role and how can he propel the company forward?
Clive's career to date could have been tailor-made for his new position with us. Having spent nine years with Worldwide Television News and latterly Associated Press, he has also worked with two leading wet-hire companies before spending seven years as COO with one of Britain's leading broadcast systems integrators. He understands the business from the broadcast, OB and SI perspectives and is very commercially aware. He will work closely with clients in supplying the best equipment to fit in with their available budgets . He is also very aware of the technical undercurrents propelling the industry forward, notably 4K, HDR, IP, VR and the longer-term potential of 8K.
Finepoint has recently made the Blackmagic URSA Broadcast available to preorder. What makes this camera perfect for broadcast?
Blackmagic Design is one of many companies we partner with. Its products offer remarkably good value and are very popular indeed with many customers. The URSA Broadcast offers the features of an ENG camera and studio model all in one, accepting B4 lenses as standard (optionally EF, F or PL) and recording in 1080i HD or 2160p UHD mov files onto SD, UHS-II or CFast memory cards. It has a light weight robust magnesium alloy body, good control ergonomics and easy connectivity to third-party devices.
Finepoint is also active in the AV sector. How does that differ from the broadcast mainstream?
A key factor for AV customers is that the products be easy to use without taking up too much time in formal training. The main demand is for high quality presentation devices such as video walls, projectors and conferencing systems. We have provided many permanent installations incorporating high specification equipment from leading manufacturers such as Barco, Christie, JVC, LG and Sharp. We are also the sole market distributor in the UK and Ireland for IDK which specialises in AV over IP, video switchers, interfaces and presentation devices for class rooms, conference rooms, command control centres and corporate events.
The professional audio visual market has been using more IP based technologies to reduce reliance on costly proprietary UHD matrixes and amplifiers. Broadcasters are also increasingly using IP based platforms.
This has led to an interesting crossover. Some broadcast technologies are being used in AV environments and some AV technologies are being adopted by broadcast system integrators where non-critical viewing of content can be achieved with AV displays.
With this recent move, do you have any future plans to progress the company's dealings or range of products?
We track the latest product developments very closely on a continuous basis, supplemented by networking at trade shows such as NAB, IBC, ISE, BVE and MPS. Broadcasting is a very dynamic industry and we are often called upon to advise our customers in their purchase or rental plans. We recently commenced a £2 million investment programme in new HD and UHD equipment for our hire division. The initial focus is on new camera channels including Sony HDC-4300 and HDC-4800 cameras, Canon and Fujinon box lenses, EVS XT3 servers and Sony BVM-X300 30 inch OLED monitors.
We are already experiencing an acceleration in demand for high speed cameras to deliver slow-motion coverage of sports. The Sony HDC-4800 can shoot full-resolution UHD images at up to 400P (8x) or HD at 800P (16x). It also allows HD high frame rate video to be sourced selectively from a UHD picture in real time. This gives directors a high versatile production tool to enhance live sports coverage.
The EVS XT3 slow-motion server supports every SuperMotion camera on the market and provides native options for up to 12 record channels with proxy encoding in SD and HD, eight channels of 1080p or three channels of UHD-4K in any in/out combination.
In terms of supply and demand, we have great vendor relationships which enable us to offer very competitive pricing on new equipment. Our hire and sales divisions work together to enable a constant flow of the very latest equipment in our rental fleet, releasing into the market well maintained ex-rental equipment in excellent condition.
This article is also available in the June edition of Broadcast Film & Video. Available here.
More Broadcast Equipment Stories