Broadcast News
04/04/2018
FUJIFILM To Show Zoom Lenses At NAB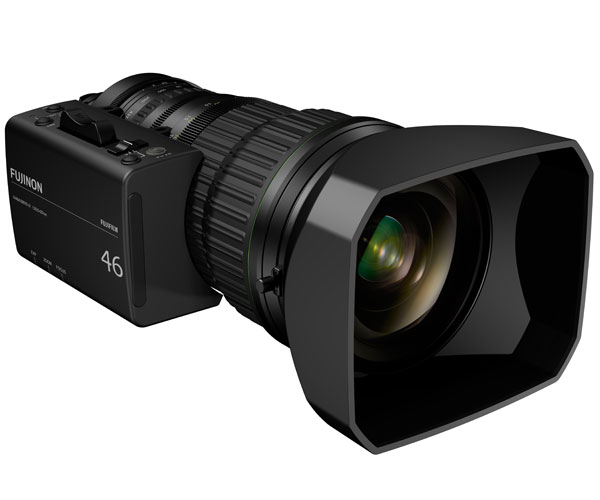 Fujifilm is to display a variety of zoom lenses at the 2018 NAB Show, with the support of Pyser Optics.
The new lenses are made with cutting-edge optical technologies and will be on display at booth C7225 in Las Vegas.
New Broadcast Lens
The UA Series is a broadcast lens series that is compatible with 2/3" 4K UHD cameras. The most important new models are the FUJINON UA24x7.8BERD and the FUJINON UA107x8.4, long outside broadcast lens.

The FUJINON UA24x7.8 is a 4K compatible portable zoom lens that achieves both the world's smallest and lightest specifications for its type, with a total length of approx. 220.5mm and a total weight of approx. 1.98kg.

The FUJINON UA107x8.4 is a 4K compatible broadcast zoom lens that achieves the world's highest zoom ratio of 107x. Covering a wide range of focal lengths, from a best-in-class wide angle of 8.4mm to a super-telephoto range of 900mm, images can be shot at 4K resolution in a variety of applications, such as for sports broadcasting to concerts and live performances. Visitors can experience dynamic images with 4K resolution.
Development Announcement
Fujifilm now has a 4K compatible broadcast portable zoom lens with a 46x zoom ratio under development. Fujifilm is now developing 2 types of 4K compatible broadcast portable zoom lenses, the FUJINON UA46x9.5 and the FUJINON UA46x13.5. The standard FUJINON UA46x9.5 zoom lens has a focal length of 9.5mm to 437mm, and the telephoto FUJINON UA46x13.5 zoom lens has a focal length of 13.5mm to 621mm. These high-magnification zoom lenses are suitable for live production or aerial video. Fujifilm's 4K lens line-up will total 10 lenses.
Cinema Lens
Emmy award-winning FUJINON cinema lenses offered by Fujifilm are used at movie/CM/TV production sites around the world for their advanced scene-depicting capability. The HK Series are the flagship models with their 4K- Plus optical performance and fast T-stops. The ZK Series and the XK Series are well known for high optical performance and comfortable operation featuring a detachable drive unit. The MK lenses deliver an ultra-compact and lightweight design and excellent cost performance.
www.fujifilm.eu/uk/
www.pyseroptics.com
Top Related Stories
Click here for the latest broadcast news stories.