Broadcast News
12/08/2015
Pyser-SGI Announce Two New Fujinon Ultra HD Lenses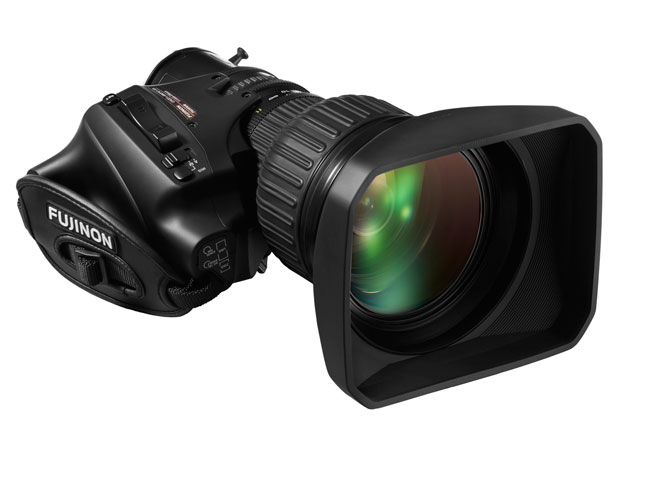 The market need for 4K video content is surging amidst a 7-fold, year-on-year increase in the shipment of 4K-compatible television sets to approx. 11.6 million units last year and the launch of a dedicated 4K channel (CS satellite broadcasting) in Japan in March this year.
Fujifilm's line-up of cine lenses has included the "HK series", which offers optical performance approximating to 8K systems, and "ZK series", which combines 4K optical performance and electric drive units similar to those found on ENG lenses. With a solid reputation not only from the film industry, but also from broadcasters producing 4K content, lenses in both "HK" and "ZK" series are frequently used in test 4K broadcasts for international sporting events. However, the broadcasting industry generally uses cameras equipped with a 2/3-inch sensor including 4K cameras with the same sensor size, and is therefore seeking compatible broadcast lenses that deliver advanced optical performance.
The UA80x9BESM, is a broadcast zoom lens compatible with the latest 2/3" format 4K cameras. Using cutting-edge optical simulation technology, the lens achieves an impressive 80x zoom as well as advanced optical performance such as high image resolution, contrast and colour reproduction. Covering the focal length from 9mm at wide angle to 720mm at telephoto, the lens features a unique "optical stabilization mechanism" that provides optimum adjustment to reduce image shake caused by vibrations and wind, making it an excellent choice for live coverage of sporting events and concerts. The "floating focus system", which controls multiple lens groups according to the shooting distance, delivers high-resolution and high-contrast images from close-up to infinity, enabling 4K video production with a high realistic sensation and premium picture quality. With the demand for accurate focusing needed for 4K resolution, Fujinon's new focus position demand unit, the EPD-31A, has improved from 12 bit to 16bit encoding.
The UA22x8BERD, is a portable broadcast zoom lens with optical performance compatible with 4K cameras. Designed using the same cutting-edge optical simulation technology as the UA80x9, the lens achieves both the 22x zoom and advanced optical performance demanded by 4K production. Covering the focal length from 8mm at wide angle to 176mm at telephoto, the lightweight and compact lens excels in handling versatile situations including live sport coverage, indoor / outdoor programme production and news reporting.
"These 2 Fujinon lenses are perfectly matched to the new 2/3" 4K cameras," said Stefan Czich of Fujinon distributor in the UK, Pyser-SGI. "The key benefit is that these lenses give the camera operator the same zoom range that they have with HD lenses. Until now you could go wide or go long, with 4K lenses. With these 2 new lenses from Fujinon you can do both & give directors the dramatic images that they expect with fabulous 4K image quality."
The lenses will be shown for the first time at a major exhibition in Europe on the Fujifilm stand at IBC, 11C20, where representatives from Pyser-SGI & Fujinon will be happy to answer your questions on these and other lenses.
FUJINON lenses by Fujifilm are known for advanced optical performance, contributing to the evolution of video imaging through their use in the production of TV programs, movies and commercials across the world.
www.pyser-sgi.com
Top Related Stories
Click here for the latest broadcast news stories.