Broadcast News
19/02/2018
So You Want To Fly Your Drone Next To The Airport?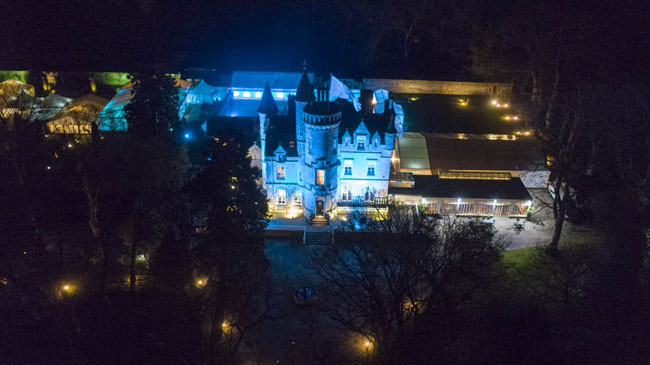 Introduction
We would all love to be able to fly our drones anywhere and when we want, however these days things are not that simple, especially in an airport zone. Restrictions are in place for obvious legal and safety reasons. These must be complied with or risk a serious penalty from the authorities. In this case, I was asked to fly at Carlowrie Castle (showing the marquees, that were in place for a major company conference) which was only 400 metres from the perimeter of Edinburgh Airport. In drone terms, this is right next door. (Drones in the open, away from restrictions can fly 500m as long as they are in visual line of sight). Fortunately it's parallel to the runway and not under its flightpath.
Unlocking DJI Geo Zones
DJI is the world's largest drone manufacturer with 70% of the market share of the $8-10bn market. It comes as no surprise then, that they do not want to see their products used illegally, by e.g. flying into prisons and airports. They have therefore developed a Geo-Zone system that keep a drone out of a high risk zone or prevent it from taking off within the zone. This is activated via GPS coordinates programmed into the firmware of the drone.
However for professionals, they can unlock specific requested areas when proof has been provided to them. In this case an email was sent to DJI detailing the following:
• The name and address of the location
• Its precise GPS coordinates (Google Earth is useful here)
• The time and dates required for flying
• The radius distance from the take-off point
• A copy of the Permission for Commercial Operation (PfCO) was attached to prove professional status
• Your flight controller serial number as found in the DJI GO 4 app when your drone is switched on
Within 24 hours an email confirming authorisation had been given into the database. This would be updated in the drone when it would be turned on inside the authorised area.
Air Traffic Control
A week before the flights were due to take place, an email was sent to Air Traffic Control – NATS in Edinburgh pre-notifying them about the flights. In it the PfCO, a full risk assessment, and flight plans were included. They then acknowledged the email so that when they were phoned on the day, it made authorisation to fly much easier. The drone was restricted to 200ft above ground level (agl) – normal maximum height is 400ft agl – and to 250m radius from the main castle building. The drone was given one-hour window of flight on both occasions. After each, ATC were phoned back to notify them that drone operations had ceased.
The police
The police can obviously get a bit jumpy when it is mentioned that a drone is flying next to the airport. If they have not been informed, they would be quite likely to pay a visit to the flying site with blue lights flashing! To prevent this and as a professional courtesy, a phone call was made to Police Scotland, detailing the circumstances of the flights. An incident number was issued to the pilot to be used as a reference. This proved useful for notifying the police the next day for the night flights.
Flying at night
In a normal standard PfCO, permission to fly commercially is restricted to 30 minutes before sunrise and 30 minutes after sunset. However, the operator may adjust his or her Operations Manual and have it authorised by the CAA. In it, certain typical safety measures may put in place for night drone flights.
• Risk assessments must be done during the day so that obstructions can be seen
• A secondary observer may be needed to check for obstructions during flight
• The landing site must be lit for safety
• Drone flights may have certain distance and height restrictions placed on them
• A strobe must be attached to the drone to aid Visual Line of Sight operations.
Conclusion
Flying at restricted locations such as at Carlowrie Castle are possible provided that proper planning, preparation and communication is used. The results, can be spectacular as this short one-minute video can show.
www.thomashaywood.com
More Aerial Filming Stories