Broadcast News
16/11/2016
Filming Fireworks By Drone – The Proper Way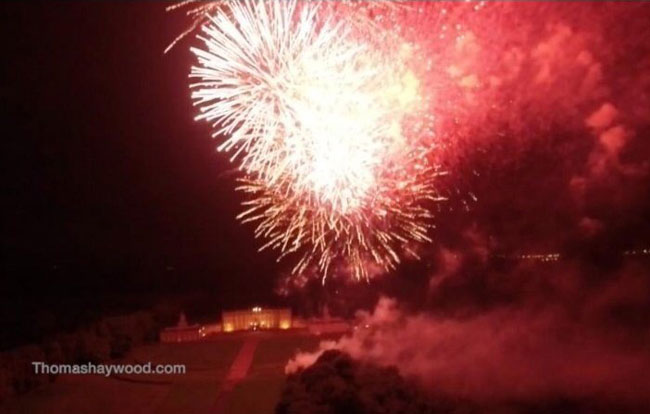 Flying a drone at night to film fireworks is easy some may think, but think again, writes Thomas Haywood, Thomas Haywood Aerial Drone Photography.
There are quite a few things to consider before you get your drone into the air (certainly on a professional basis).
On this occasion I was filming fireworks by 21cc Group (
www.21ccgroup.com
) at Hopetoun House (
www.hopetoun.co.uk
).
Things to consider about flying a drone at night
Normally all pilots may not fly between 30 minutes after sunset and 30 minutes before sunrise unless special dispensation has been granted by the CAA (Civil Aviation Authority). In my case, I have a section in my Permission for Commercial Operation (PfCO) which allows this.
There are, however, several conditions that must be met prior to take-off. The first is that a risk assessment must be undertaken during daylight hours to view hazards that may exist (trees, pylons and overhead wires, etc). This will also ascertain where the landing area will be and what procedures will be in place at the time of flight. It is vital at this point that you talk to the firework company or organisers who are putting on the show.
The landing area will be lit with torches, or by other means, and during flight the maximum operating area will be reduced to 60m (200ft) above ground level and no further than 150m from the pilot. (Normal distances during the day are 120m / 400ft above ground level and 500m, respectively).
Police and Air Traffic Control will have to be notified if it's flying within a restricted airspace area and ground crew will be issued with high visibility vests so that they can be seen. The drone will also have to have high visibility strobes for safety too.
Permission for take-off must be obtained from the landowner – no excuses!
Firework safety zones and shell heights
Fireworks by their very nature can be unreliable and if not handled properly, dangerous. For this reason safety zones have to be set up. When consulting the pyrotechnists (firework company), ask them what types of fireworks you are using. I occasionally set professional displays so I am happy to help pilots who approach me.
Normally if the show is firing single ignition multi-tube cakes, then the safety area is 50m away from the firing site. However, if mortar shells are being used, and depending on the size of the shell, these distances can vary greatly. The general rule of thumb is that for every 1mm of shell diameter you must allow an extra 1 metre away for the safety zone. You as the pilot must not be in that zone.
Examples of some of the distances can be seen below:
• 4 inch (100mm) mortar shell: up to 400ft (120m) – 400ft burst height
• 6 inch (150mm) mortar shell: up to 600 ft (180m) – 600ft burst height
You should also take account of the burst size of the shells. Personally, I do not like having a £4,000 drone crashing due to a firework exploding too close!
For more information on heights and distances, etc. for fireworks, take a look
here
.
Wind and weather
As drone pilots we must take account of the weather. Rain and drones generally do not mix, nor do winds over 22mph (10 m/s) which can potentially blow your drone out of position, whilst giving you an unsteady picture. Into this mix you have to take account of where the firework smoke will drift (along with any hot debris). This is to avoid damage to the drone and to give you a clearer picture.
Be aware; without many visual cues from surrounding objects, flying at night can be quite disorientating. You must take care when flying.
Having said all of this, it is one of the most visually rewarding forms of drone work.
To see the full display as filmed by my drone, take a look at the video below.
More of the author's work can be seen at
www.thomashaywood.com
.
This article has been contributed by Thomas Haywood, Thomas Haywood Aerial Drone Photography.
(JP/LM)
Top Related Stories
Click here for the latest broadcast news stories.