Broadcast News
21/03/2019
Helicopter Film Services Launches The 'TITAN': An Ultra-Heavy Lifting Drone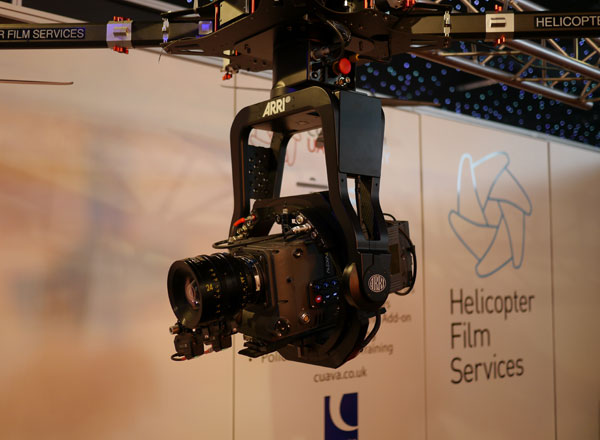 Europe's leading aerial filming company, Helicopter Filming Services, has launched the TITAN Ultra-heavy lift drone which incorporates a large, capable airframe paired with the ARRI SRH-3 for the first time.
The ARRI SRH-3 stabilised head enables easy integration of existing ARRI lens motors and other functionality directly with the ARRI ALEXA 65 and LF cameras.
Aerial DoP, Jeremy Braben, who is CEO of Helicopter Film Services (HFS) explains: "The impetus for developing this large drone was being able to respond to requests from a couple of legendary DoPs and VFX Supervisors to enable film-makers to fly large format digital or 35mm film packages. Despite the 'spin' often generated in the industry, until now, there were no drones capable, or approved, to fly at weights that make this possible, safely."
A NEW SOLUTION, AT THE RIGHT TIME
Alan Perrin, Chief UAV Pilot at HFS adds: "We have trialed other heavy lift machines, but all of them have been marginal in terms of performance when carrying the larger cameras and lenses that we're asked to fly. What we needed, and what we've designed, is a system that will capably and safely operate with the large format cameras and lenses that top productions demand."
"Being able to combine industry-leading triple redundancy on flight control, and double redundancy on power supply and ballistic recovery, the TITAN gives us the confidence to push the envelope. The real challenge has been engineering this performance and capacity into a size of aircraft that still allows us to deploy and operate easily on any production involving a substantial flight duration."
The resurgence of 35mm film on recent productions has meant Helicopter Film Services has seen more frequent requests to fly 35mm on a drone. This can be easily achieved with the TITAN when it is carrying an ARRI 435 and 400ft magazine. Jeremy Braben is excited by the prospect: "Another area we are keenly exploring is the ability to fly a new 65mm film camera on the Titan!"
Russell Allen, Business Development Director for Camera & Grip at ARRI Rental notes: "It is great to see Helicopter Film Services' TITAN combine the latest in stabilised remote head technology – the SRH-3 – with the ultimate in image capture, the ALEXA 65. Now it seems that everything is possible."
Final payload-proving flights are currently taking place, and the company is in the process of planning first use on major productions.
TITAN: TECHNICAL SPECIFICATIONS
• Optimised for large format Digital AND 35mm cameras
• Max Payload - up to 30kg
• Max Take-off Mass - 80kg
• Redundant Flight Controls - if one flight controller fails, there's a backup system that will take over
• Ballistic Recovery System - Parachute
• Class leading stability
• Flight duration - up to 15 mins (subject to payload weight and configuration)
• HD Video Downlink
• Gimbal: ARRI SRH3 or MōVI XL.
This article is also available in the March edition of Broadcast Film & Video. Available
here
.
More Aerial Filming Stories