Broadcast News
24/04/2017
What To Expect From Your Drone Operator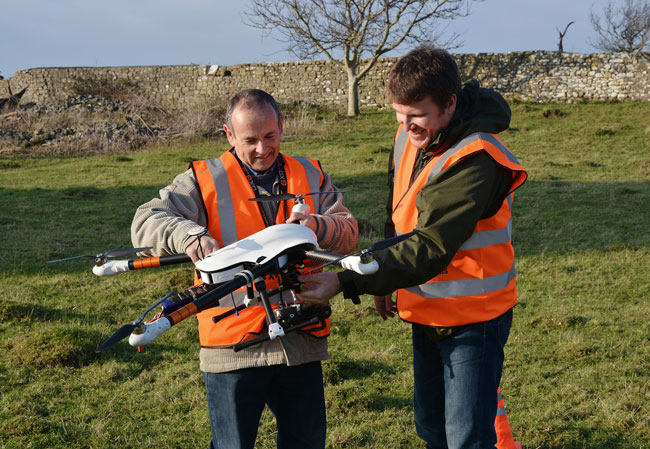 Drones, or remotely piloted aircraft, have been around for quite some time now, and have within the past couple of years, not only started to make an impact in TV and cinema but also in many areas of industry.
From spectacular cinematic shots and real estate photography through to topographical data capture and thermal imaging, there are becoming fewer and fewer applications that cannot be successfully utilised by most businesses and industries.
So, what response should you expect from a drone operator when you make that initial enquiry? More importantly, what should you expect after having commissioned the operator to undertake work for you?
I believe at Vistaworx we operate in a concise and professional manner. Most of our enquiries are via emails; if that is the case we would follow up the enquiry with a phone call, as we always prefer to discuss a project directly with the client. While on the phone we can usually ascertain whether the job can be flown legally and within the relevant CAA regulations by referring to the task site with Google Earth and cross referencing it with our topographical air chart. By doing this we can usually get a pretty good idea as to the viability of the proposed task.
Once we have established the job as a 'goer' and following any further project details, we then submit a formal quotation. We always suggest a contingency date, as UAV operation is generally weather dependent, to a degree, and so having an alternative is extremely important. We conduct a pre-deployment survey from the office, where we research the task area and ensure any relevant permissions for flying are obtained, check any obstacles with the aid of an OS map and any local activity that may prove a concern. We cross reference the task area with our topographical air chart, ensuring we are not infringing into any airspace. This is normally not an issue, as we have found if we contact the relevant air traffic control, the response has always been very positive and helpful. Even in areas of high intensity military activity permissions have been granted.
Once basic research has been completed, we then cross reference the weather forecasts in preparation for the selected task date. Once we're happy with the weather, we usually arrive at the task area 30 minutes to an hour prior to flying and undertake a site safety survey. Once satisfied that safety to property and individuals in the immediate area is secure, we would then and only then undertake the set task.
It's important to remember that the operator in control, the UAV pilot, not only takes into consideration the safety of everyone in the area, but also the integrity of the aircraft and so the final decision on any flying rests with the pilot in charge. Except for the smallest of jobs, we always fly as a two man crew, either as a pilot + camera operator or as a pilot/cameraman + flight observer.
Vistaworx is proud of its pedigree and believes strongly in safety at all times. With competition continuing to rise in this fascinating and exciting industry, it's important for those hiring a drone operator to consider only those who display a professional approach to flying. A commercial drone operator should be qualified with the relevant qualification, have Civil Aviation Authority (CAA) approval with Permissions for Commercial Operation (PfCO) and be fully insured to a minimum of £5,000,000 public liability.
As in most industries, it's always tempting for those doing the hiring to cut costs, but when dealing with aviation, cutting costs should be an option which is given careful consideration.
This article has been contributed by Howard Rockliffe from Vistaworx.
www.vistaworx.co.uk
(JP/LM)
Top Related Stories
Click here for the latest broadcast news stories.