Broadcast News
21/11/2017
PlayBox Technology Powers Emtek Indonesia Project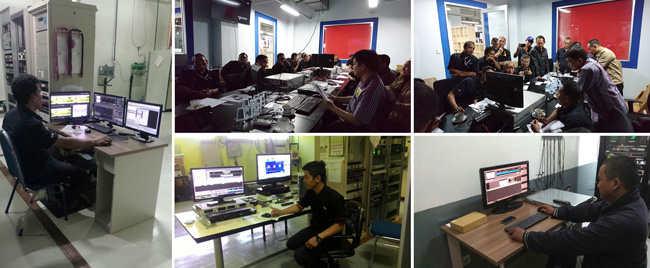 PlayBox Technology's AirBox Neo and CaptureBox Neo servers have been chosen by Elang Mahkota Teknologi (Emtek) as the core of a major upgrade to the broadcast playout system for its Surya Citra Televisi (SCTV), Indosiar Visual Mandiri (Indosiar) and 'O' channels in Jakarta, as well as regional studios across the country.
Emtek is one of Indonesia's largest media groups and the new installation provides a range of features including the ability to handle multiple timezone broadcasting. System design, integration and onsite training services were provided by PlayBox Technology distribution channel partner Citra Info Mediatech.
Rachmat Akbar, Emtek Group Chief Technical Officer, explained: "We transmit to viewers on the Java mainland and across thousands of islands which collectively form Indonesia. It is very wide region spread across the GMT +7, +8 and +9 time zones. Having operated very successfully for many years with PlayBox Technology solutions, we decided that AirBox Neo and CaptureBox Neo were a logical choice for this service upgrade at our Jakarta headquarters and our studios in Bali, Bandung, Jogjakarta, Makassar, Semarang and Surabaya. Each region receives live video from Jakarta and records it at the regional site. The system needed to be very flexible to accommodate the timing requirements specified for religious observance. It is working very well."
"The AirBox Neo server at each location is populated with TitleBox Neo and ListBox Neo," added Citra Info Mediatech Sales Manager Imanuel Ryan Wijaya. "TitleBox Neo provides interactive on-air graphics and titling facilities which can be manipulated live with text selection, running speed and transitions all under total control. ListBox Neo allows schedules to be prepared days or weeks in advance of transmission; it also has a clip trimmer for simple programme editing. The additional server at each site is a CaptureBox Neo which allows content to be sourced from up to four video feeds simultaneously for playback within a few seconds of ingest commencing."
"Emtek is one of our most valued clients in the APAC region and we are very pleased by their sustained confidence in our product range," said Pavlin Rahnev, CEO, PlayBox Technology. "Citra Info Mediatech has proved an excellent channel partner in this project, perfectly positioned to provide local pre-sales, system integration, training and post-installation support from its own Jakarta headquarters, reinforced whenever required by online support from our own headquarters."
www.playboxtechnology.com
(JP)
Top Related Stories
Click here for the latest broadcast news stories.