Broadcast News
02/11/2017
Consolidation Of Infrastructure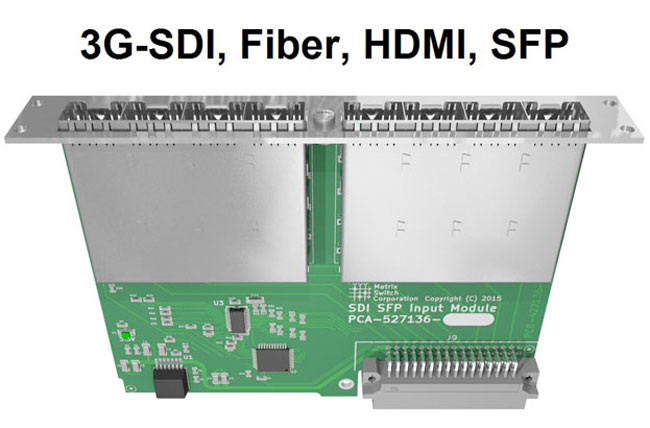 Whilst some parts of the world see HD 720p or 1080i as the top level of broadcasting they can ever hope to achieve it is clear that higher line rates and increased IP bandwidth are the leading edge of the industry's plans for the home user.
Whether viewing is done via the internet using streaming services or satellite feeds, the current by-word is consolidation, enabling the infrastructure to cope with all of the above.
Indeed the emergence of 10Gb/s to 100Gb/s network technology, COTS switching planes, standardisation of formats JPEG 2000, ASPEN, SMPTE 2020 and 2100 enables the new transport mechanism. Distribution of essence internally has never been as varied as it is today and will continue to be in the future. Hamlet has the glue to help keep the wheels turning and check monitoring and verification with best of breed solutions.
The latest Hamlet MSC FC, FS, and UFC switchers, converters are so flexible it's possible to select a variety of I/Os for those that seek fibre to serial digital solutions and vice-versa. With or without plug in module SFPs up to 12G. The new MSC-XDM modular SDI routers offer extremely high level flexibility, with 3 base models enabling optimisation of operation and unit cost. Each unit is user expandable with even HDMI SFPs, with optical fibre operating distances of up to 10km. Modular systems can be independently expanded by 8 input or 8 output modular I/O cards, allowing for asymmetrical matrix sizes.
Portable monitoring and verification of streams has never been easier, with the new Hamlet Enterprise VX3 its dual 10Gb/s interface accommodates higher bitrate flows over IP networks. Like its award-winning siblings it's good to go out of the box; the "one-box" approach integrating the essential interfaces to analyse and troubleshoot the end-to-end service without the need for clunky dongles and cable runs.
The latest tool box of options to choose from includes Dual IP, ASI input and output, RF, SFP, HD/SDI interfaces with deep IP stream packet interrogation quality of service to TR 101290. Users choose from IP and/or ASI only operation or can include OTT, HDSDI and/or RF input operation, with SFP inputs if required.
Hamlet, known for offering best of breed, value for money, support, service and advice, continues to ensure the best solution for the job at the right price. Contact
sales@hamlet.co.uk
.
www.hamlet.co.uk
(JP)
Top Related Stories
Click here for the latest broadcast news stories.