Broadcast News
25/10/2017
Winners Of Third Annual SMPTE-HPA Student Film Festival Announced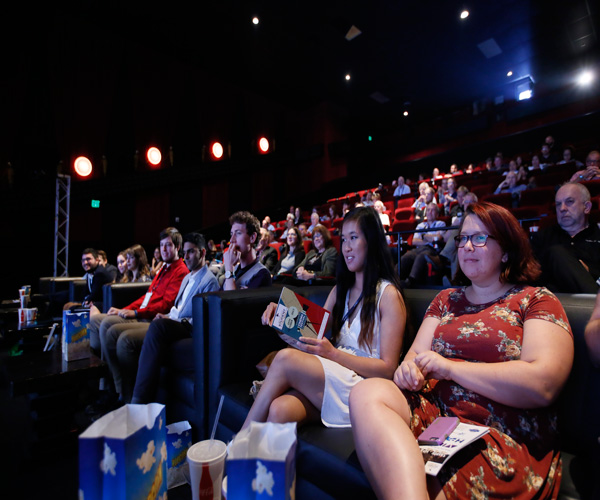 SMPTE® and the Hollywood Professional Association (HPA) have announced the winners of the third annual SMPTE-HPA Student Film Festival.
The event took place at the TCL Chinese 6 Theatres in Hollywood, California, in conjunction with the SMPTE 2017 Annual Technical Conference & Exhibition (SMPTE 2017), the film festival showcased submissions demonstrating creative uses of technology in storytelling.
SMPTE and the HPA received 119 submissions from more than 30 countries, and the 17 official selections screened during SMPTE 2017 represented Germany, Hong Kong, the UK, and the US.
The event was hosted by Howard Lukk, SMPTE director of engineering and standards, who is also a film director, and by Aimée Ricca, SMPTE marketing and communication, who previously worked in cinema. The official selections at the festival were screened in SMPTE-DCP format, courtesy of Sundog Media Toolkit. Eight films earned awards in the following categories:
Innovative Use of Entertainment Technology to Engage the Audience in the Story — Animated Short (tie)
• "Tom in Couchland" by James Just of Ringling College of Art and Design (Sarasota, Florida, U.S.)
• "VERGE" by ChingTien Chu of School of Visual Arts (New York, New York, U.S.)
Innovative Use of Entertainment Technology to Engage the Audience in the Story — Live-Action Short
• "Mind Game" by Weisi Dai of School of Visual Arts (New York, New York, U.S.)
Innovative Use of Technology in an Experimental Short
• "Jazz Orgie" by Irina Rubina of Filmakademie Baden-Württemberg (Ludwigsburg, Germany)
Innovative Use of Mobile Device or Tablet to Convey a Story — Narrative Short
• "LONDON STRIKE" by Jiranant Kanjanagawin of University of Greenwich (London, U.K.)
Innovative Use of Analog Technologies in a Live Action Narrative Short
• "Home" by Vivian Lau of Emerson College (Boston, Massachusetts, U.S.)
Documentary Short With Technology as the Subject Matter
• "Baylor VirtuOso Documentary Short on Use of Technology in VR Music Video" by Gustavo Raskowsky, Marcos Luna Hoyas, and team of Baylor University (Waco, Texas, U.S.)
Audience Choice Award
• "KCLOC" by Ninaad Kulkarni of School of Visual Arts (New York, New York, U.S.)
The student filmmakers behind the winning selections received awards for their work, as well as prizes courtesy of Avid, Blackmagic Design, Other World Computing, and Sundog Media Toolkit.
The jurors for this year's festival featured a diverse group of accomplished professionals from around the world. They included Elisa Bonora, ACE, an editor and producer whose credits include multiple Emmy®-nominated documentaries; Christina Capra, a director and producer of virtual reality (VR) content; David Creed, an award-winning short-filmmaker; Andrea Dimity, a film producer and literary manager; David Ginsberg, a postproduction technology consultant; Tim Heindl, senior vice president of research at Sony Pictures; Katie Hinsen, a digital intermediate artist and founder of the Blue Collar Post Collective (BCPC); and Niven Howie, ACE, editor of commercials, pop videos including Sting's "Ten Summoner's Tales" and XTC's "Dear God," and the features "Dawn of the Dead" (2004) and "The Hitchhikers Guide to the Galaxy" (2005).
www.smpte.org
www.hpaonline.com
Top Related Stories
Click here for the latest broadcast news stories.