Broadcast News
02/05/2017
Vortex & LiveShot Provide The All-in-One Studio Solution For PBDS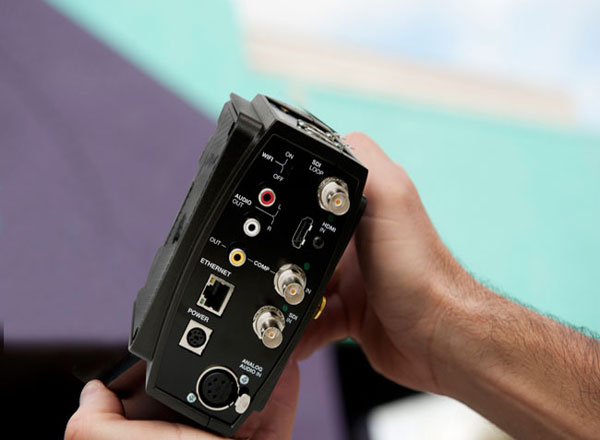 Studios across the world are starting to globalise, with internet technologies growing at an alarming rate there are more and more ways to get your content to and from your major facilities no matter where you are on the globe.
Vortex have been involved in IP transmission since the very beginning, offering remote broadcast solutions via the ACCESS Audio Codec and the LiveShot Video Codec. We always aim to be one step ahead, providing new techniques for getting your data over the public internet and offering features not usually found from other products on the market. This is why LiveShot was chosen by Professional & Broadcast Digital Systems(PBDS), providing them with bidirectional video, stereo and a separate comms channel for their live broadcasts. PBDS provide televisions studios all over the world and are now able to connect these studios together all from a single LiveShot unit on each end.
LiveShot can stream broadcast quality video at low, medium or high bitrates and at latencies lower than 200ms. This can all be done in the most demanding conditions and with little to no compromise on your broadcast. LiveShot is a highly flexible codec which keeps the video feed smooth even with dramatic changes in your connection. The unit is incredibly light, weighing less than 1Kg and consuming no more than eight watts. Being flexible in nature, LiveShot is able to transmit over Ethernet, WiFi, 3G/4G links and even via satellite to satellite connections thanks to huge headroom with latency. PBDS are using the LiveShot rack to provide Video, Audio and Comms in both directions and this gives them the ability to do a two way broadcast between their studios.
"I just wanted to reiterate how pleased my customers are with the pair of Liveshot units they have. One unit is in Paris and the second in London" says Studio Architect, John Reid. Most importantly the Liveshot "allows live cuing of the programmes and also full, down the line interviews with each participant seeing the other. Together with the low latency this makes them ideal for live interviews as well." The units are connected 24/7 and plugged into their vision mixer to switch feeds between studios plus the delay has never made it past 200ms. This is just one of the many ways that LiveShot can change the way you make your broadcast, College Sports have used their fleet to record multiple sports events and with fewer limitations to coverage and latency. LiveShot offers a huge amount of control over your stream, allowing you to lock down a latency target and provide a consistent feed across your all codecs. Broadcasters with multiple remotes use LiveShot to simulcast all their video content live.
The high quality, multi-bitrate and low latency capabilities of the LiveShot would not be possible without CrossLock VPN. Crosslock is not your average protocol; it creates a tunnel between the two connected codecs and maintains every aspect of the connection across multiple network tools. Not only does it offer bonding, diversity and redundancy, it gives the user full control and guidance for every aspect of your internet connections (whether it is mobile, Ethernet or satellite) without interrupting the broadcast. Your average streaming devices send out their data hoping that the receiving codec can keep up, there is no way for the transmitter to know the status of the receiver and data that has not arrived in time will either be discarded or delayed. This results in more latency, lower quality and in some cases the content being completely cut off. Crosslock gets rid of this by taking that crucial information from all available network sources; by keeping your data in check and offering a highly adaptable stream on some of the most undesirable networks.
The team at Vortex offer remote support when purchasing any of their products and that includes expert advice, support and repairs for Comrex codecs. We also offer one full of day of training when purchasing a LiveShot kit to help get the best out of your broadcasting as soon as it's in your hands.
www.vtx.co.uk
Top Related Stories
Click here for the latest broadcast news stories.