Broadcast News
06/07/2015
LIVESHOT Next-Generation Live HD Video IP Multi-Codec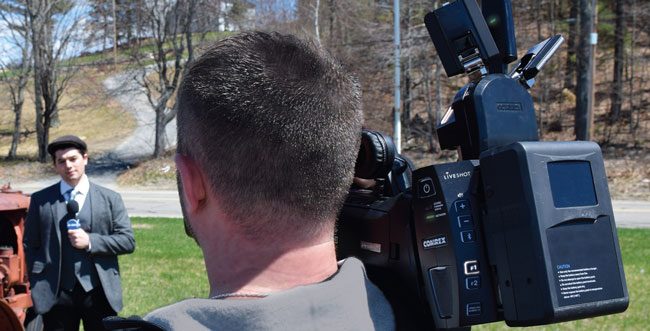 Comrex LiveShot is a compact camera-mountable device for streaming HD video and audio from the field to the studio using the public internet.
Complete with separate return video, IFB and full-duplex intercom/cue channel, LiveShot is specifically designed to perform on challenging networks. An integrated one-box solution, LiveShot really is the next-generation of video uplink solution for Live Remote ENG.
With LiveShot, it is almost possible to leave the OB truck at home. Weighing less than a kg and consuming less than 7W, it can be mounted between the camera and its battery or fits easily into its shoulder holster for on-the-go shooting. It comprises an HD/SD/Composite video codec with stereo audio to send programme back to the studio and provides a return video and audio feed back from the studio end. In addition, there is a separate audio codec providing live 2-way audio for comms. It has Ethernet plus multi-USB connectivity, bonding and diversifying between multiple connections to ensure sufficient and reliable data bandwidth with clever throttling to ensure that delay is not introduced just because of one path with latency or poor connectivity. The integral LiveShot Hub allows simultaneous connection of 4 dongles but more can be bonded using an expansion cable.
A smartphone can be used for local control and monitoring plus the LiveShot Central Server lets users see previews and control all codecs in their fleet using a normal web browser. Full status information is provided including details of the data connections, packet loss and latency. Users have their own account on the LiveShot Central Server, provided at no additional cost and without annual subscription, which lets them see the status of all the codecs in their "family" and call up a live preview.
The Comrex LiveShot uses many of the techniques learned with the industry-standard ACCESS-IP Audio codec with unequalled forward error correction and error masking techniques, congestion avoidance and UDP enhancement to minimise the effect of missed packets. The result is stable ultra-low delay video and audio even when working over poor and mediocre IP connections that can occur when 4G, 3G and wifi connectivity deteriorate or become congested. Whilst the comprehensive forward error correction, error masking and congestion avoidance take care of the transmitted data, using H264 High profile encoding ensures better-quality video and audio whilst using less data bandwidth which of course is more likely to get through the public internet unscathed. Often an external unit is needed to combine mobile signals (3G, 4G etc) to have sufficient data bandwidth but this capability is built-in as standard with the LiveShot which has the possibility to plug in multiple USB dongles to provide multi-datapath bonding and diversity. A secure end-to-end VPN is set up using CrossLock – a Comrex technique specially developed for LiveShot.
The ultra-low latency (typically around 100mS), enhanced stability and additional connectivity providing reverse video and audio as well as comms, helps things run smoothly, all without the infrastructure of having an OB Vehicle at the location.
Contact Vortex Communications in London for a full run-down and hands-on demonstration.
This article is also available to read at BFV
online
.
(JP)
Top Related Stories
Click here for the latest broadcast news stories.