Broadcast News
19/02/2014
Video And Audio Using IP: How The LiveShot And Access Do It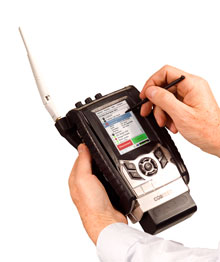 How to make IP work to your advantage, by Ian Prowse of Vortex Communications.
Imagine a balloon full of water; front to back represents delay, left to right is quality (or lack of it) and top to bottom is data throughput. Keep the quality the same but squash the data throughput down and lo-and-behold, the delay increases. Improve the quality and the pressure is on the delay and the data, and so it goes on. This is the real world of IP - packet-switched internet connectivity - and low-delay, low data-throughput coupled with high quality is the Holy Grail of sending broadcast audio and video over the Public Internet or other IP connection.
3G and now 4G provide mobile connectivity with data rates up to 15Mbps, which was unheard of only a few years ago when the best that could be hoped for was a 9.6kbps 'fax' connection. Even back then, the Comrex Matrix provided pretty good results for broadcast audio - at 9600 baud - and since then, the ACCESS has become the industry-standard for high-quality, low delay broadcast audio-over-IP, with even live stereo choral concerts possible over 3G.
There are a couple of tricks to achieving this. First, demand as little as possible from the internet connection, achieved by using sophisticated algorithms that provide better quality with lower delay for the same data throughput. Trying to send 128kbps - every second - stands less of a chance of arriving unscathed than 32kbps for audio - and similarly for video, 1Mbps stands a better chance than 8Mbps over the same connection - exactly what the ACCESS and LiveShot do - demanding less of the connection.
The second trick is to deal properly with missing packets - those that just don't make it or arrive too late to be useful - and this is where sophisticated forward error correction and error-masking techniques come into their own; things the ACCESS and LiveShot achieve seamlessly having had years of experience of using contended IP connections for broadcast.
Third trick; jitter and delay need to be cleverly handled to keep that all-important delay down to a minimum.
Dynamic jitter buffering stretches the packets to create sufficient buffer delay and allow seamless connectivity, while monitoring the link over extended periods keeps that buffer to an absolute minimum, providing connections with delays of only a couple of hundred milliseconds for both video and audio.
Having achieved stable, low-delay, high-quality audio and video, the fourth trick is to make everything easy to use in the 'real world', and that means dealing with firewalls, NAT routers and the like, as well as matching the streaming to the available connectivity. The Comrex Switchboard Server is a clever development that sits on the Internet and handles all the NAT addressing for the ACCESS by knowing where all codecs in 'your family' happen to be. The ACCESS itself has one-touch connectivity plus a simple touch-screen user-interface.
The LiveShot uses the LiveShot Central Server, which handles the NAT routing and provides previews of the connection, whilst the LiveShot itself has one-touch connectivity and can be controlled either via a WiFi connection to a smartphone control app - or via the LiveShot Central Server for reverse connectivity. All-in-all, anyone can use them without needing to become an IT expert. Furthemore, it is only about the size/weight of a bag of sugar – and consumes only 8W.
Audio over 3G using the ACCESS has become pretty well standard in outside broadcast, but live video over a similar connection is only just becoming a reality. Many solutions exist that are cumbersome, have high latency and mediocre quality, mainly because of the data bandwidth required for HD and, if a single connection is insufficient or unreliable, a number of different data streams (3G/4G for example) can be bonded to provide a bigger data pipeline and duplicate streams sent over different connections to provide diversity.
However, as the packets are taking different routings, the delay will be as long as the slowest packets take to arrive, which means that if the bonding is not done intelligently and maybe only a few packets are sent via a slower connection, the delay will determined by that connection.
The LiveShot comes into its own by integrating a number of USB modems for bonding and diversity, in a multi-stream codec package (dual streaming, with reverse video and audio plus a two-way comms codec all in the same package). In addition, one stream can be sent to the in-built SD Storage for later store-and-forward.
Sophisticated monitoring of the data paths and throttling of the data by changing algorithm coupled with powerful forward error correction and error masking and using a group of powerful H264 High Profile Algorithms that produce better video and audio using less data connectivity all happen in the LiveShot, resulting in ultra-low delay (200mS) coupled with high quality and reliability. Excellent HD results are achieved using only a single 4G connection or a number of data modems together – up to 6+2 can be plugged in - in any combination of 3G, 4G, WiFi and Ethernet.
Read the article in the online edition of RFV
here
.
(IT/JP)
Top Related Stories
Click here for the latest broadcast news stories.