Broadcast News
10/06/2015
Industry-Standard ACCESS And LiveShot Codecs Just Got Better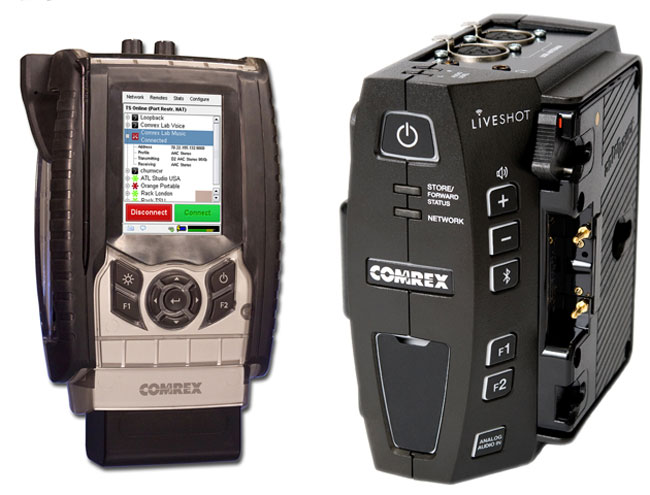 Mobile data service provision works rather like having a new road – as soon as it is there, people start to use it so as the coverage gets better, more people have smartphone contracts which allow more data and congestion happens.
Setting out to cover a large event, everything tests out fine – data throughput on 4G/3G is wonderful – the codec streams flawlessly and transmission delay is really short. But then the crowds arrive and that wonderful data connectivity disappears as fans use their smartphones to check e-mail, update Facebook and tweet photos. 4G seemed to be the answer as it provides very high data throughput – ideal for HD Video streaming – but again, as more users log onto 4G, congestion increases.
It is here that Comrex's ACCESS Audio and LiveShot HD Video Codecs come into their own, making the very best of the available data connectivity to provide the best quality with the lowest delay possible. The secret lies in using as little data as possible to provide the required quality on the basis that the less demanded of the connection, the more likely it is to get through.
Secondly, if some of that data does not get through, the key is to make sure that it isn't missed. Of course this is possible without any loss of data by sending it slowly, making sure that everything arrives – similar to web streaming where delays can be 30 seconds or more. However, this is not satisfactory for "live" broadcast where two-way conversation demands round-trip delays ideally no more than ¼ to ½ second. To keep delay to a minimum most codecs stream audio and video using the UDP protocol but this has the disadvantage of packets not arriving or arriving too late to be useful. Normally, if a data packet is missing, the codec can choose to wait for it to arrive (increased delay) and if it doesn't arrive, either ignore its loss (possibility of dropout) or ask for it to be sent again (increases delay) or to be sure, have every packet's arrival confirmed as happens using TCP transmission – which of course increases delay.
The ACCESS and LiveShot mitigate the effect of packet loss this by using clever Forward Error Correction and Error Masking – and BRUTE Broadcast-reliable UDP Transmission Enhancement including Congestion Avoidance which clocks the data down to fit into the available pipeline. The end result is that error-free live streaming of audio is possible even where there is 25% packet loss (or more).
Having made the best of a single data stream, the next step is to combine data streams to provide greater data bandwidth and increased reliability, achieved by using multiple data paths. This sounds straightforward but to do it well is a tricky business. There is always the danger that unnecessary additional delay happens because one data path – maybe one with low throughput – can delay everything so some clever data throttling is needed. Also, with multiple data streams to cope with, users need simple call setup.
Multi-Streaming is now included as standard in the latest significant firmware update for the ACCESS and LiveShot codecs which can support the use of multiple 3G/4G/WiF/Ethernet connections in any combination where previously, expensive multi-SIM external modems were needed. This has resulted in greater stability and the possibility of even better audio and video connections, especially when using 3G/4G.
Connectivity from behind firewalls and NAT routers has always been made easy using the Traversal Server connections between LiveShot codecs are now even easier thanks to the improvements to CrossLock technology in the latest firmware update, which removes the need to 'pair' units in advance and allows any codec on the Switchboard (Traversal) server account to call any other at the touch of a button.
This article is also available to read at BFV
online
.
(JP)
Top Related Stories
Click here for the latest broadcast news stories.