Broadcast News
05/04/2017
VMI Welcomes Launch Of VMEDIA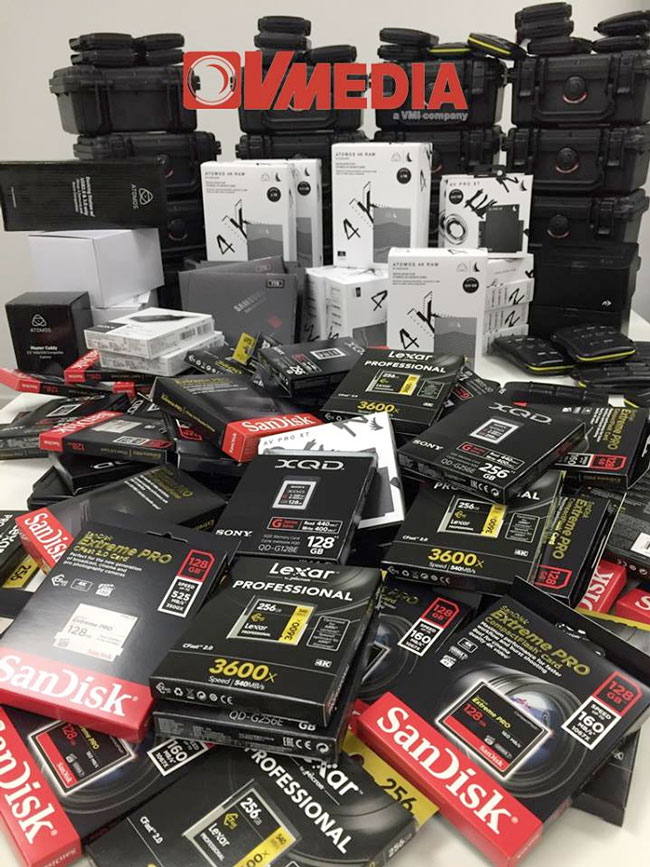 No matter how good your media management there are occasions when you simply must have more. You may suddenly find you need dozens of additional memory cards for surprises in the day's shoot or just one extra specific SSD to cater for a last minute job. Either way, you need it now.
Enter VMEDIA, a new initiative from VMI, specialising solely in renting recording media. That is equally for clients who have rented a camera package direct from VMI as for those who need additional media to support their own kit.
"VMI tailors camera kits for rent from over 250 lines of equipment and no two client requirements are the same," says Barry Bassett, Managing Director, VMI. "But what every job has in common is the requirement for memory cards. As people embrace higher quality with 4K the media demands are significantly higher than they used to be. That's why we have elected to create a new company with a new website and unique service characteristics."
VMEDIA's inventory is extensive and includes high capacity 1 TB and 500 GB cards, RED MINI-MAG SSDs, drives for Convergent Design Odyssey and Atmos Shogun, XQD and Cfast 2 cards (for ARRI Amira and Alexa Mini), P2 express media and more.
New ecoDelivery service
With ever-increasing fuel prices, and as an environmentally friendly organisation, VMEDIA offers delivery by electric-powered BMW driven daily into central London.
With no fuel or congestion charges, we can pass all of these cost savings onto customers and in doing so, charge a flat fee of just £25 each way – equivalent to the cost of a bike courier. A dedicated drop-off point for clients to return media will be handily located in Fitzrovia.
Bassett adds: "Given the dynamic use of media, where a big production may suddenly need a very generous quantity and everyone is under pressure to meet deadlines, it has been difficult for kit hire companies to satisfy demand since it is hard to judge exactly where and when the need will fall."
As a guide, when the Canon EOS C300 was first released in 2012, the primary SD card capacity was 32 GB. Today's standard media for the C300 mark II is 128 GB. Meanwhile capacities for SSD recording are regularly at 250 GB, up to half a Terabyte and sometimes larger. The 4x higher than HD data demands of 4K is typically driving these recording needs. We have pre-ordered 960GB RED Mini Mags specifically with this in mind.
Says Bassett: "There is a clear need for a rapid response service dedicated to offering file-based media on time, on a budget and with the super-fast operational performance professional productions expect."
VMEDIA is a trading division of VMI and as such will provide the same level of service and attention to detail that is the hallmark of the parent company and all existing VMI clients will automatically be given an account with VMEDIA.
The service launches today, 03 April.
For more information, go to
vmedia.digital
.
MEDIA Competition – How Many Gigabytes?
In order to celebrate the launch of the new VMEDIA business, the company are holding a competition to guess the total value of storage in the above image (taken from one of VMEDIA's first rental stock deliveries).

The closest Gigabyte guess will win a £50 voucher to dine at Browns. It's that simple! To apply, you must 'like' this VMEDIA Facebook (https://www.facebook.com/vmediadigital/) page and insert your guess as a comment below.

To give you a clue, in this image are a combination of the following cards:
• SanDisk Extreme Pro CFAST 2.0 128GB 525MB/s VPG130

• Lexar Pro 256GB 3600x Pro Cfast

• SanDisk Extreme Pro CF 160MB/s 128 GB VPG 65, UDMA 7

• Sandisk Pro SDXC V30 UHSI2 300MB/s 128GB

• SDXC 64GB 4K Memory Card 95MB/s

• Sony 128GB XQD G-Series 440MB/s Read-400MB/s Write

• Sony 256GB XQD G-Series 440MB/s Read-400MB/s Write

• ATOMOS MasterCaddy 4K RAW 500GB (Flame & Inferno)

• ATOMOS MasterCaddy 4K RAW 1TB (Flame & Inferno)

• Atomos 512GB PRO SSD AVPro Mk II Shogun, etc. (Older models)

• Samsung 1TB 850Pro SSD (for Odyssey/Apollo/Nexto)
To enter the competition
go here
.
Article and image credit: VMI.
vmedia.digital
Top Related Stories
Click here for the latest broadcast news stories.