Broadcast News
20/03/2017
Celebro Media Selects PlayBox Technology Solution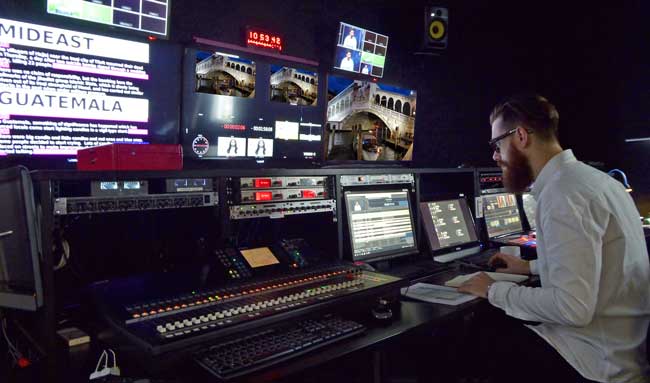 Celebro Media has selected a playout solution from PlayBox Technology which will power a new channel for a broadcaster in the Middle East.
Recently installed at Celebro Media's studios in London, the solution consists of AirBox Neo, TitleBox Neo and SafeBox Neo.
Wesley Dodd, Chief Executive, Celebro Media, said: "Celebro Media provides a wide range of television-related services to broadcasters around the world from our studios in London and Moscow. We specialise in news and factual television and have helped clients launch entire television channels, develop new programmes, and recruit and train the production teams to deliver them. Here in London we operate five studios supporting many different channels and uplinking to external playout service-providers.
"We will be operating a complete service including playout for this latest channel which is scheduled to go live in May. Keeping the entire activity in-house has many advantages including the ability to achieve very high efficiency. I have known about PlayBox Technology and its AirBox product range for a long time through events such as IBC and have always been impressed by their channel-in-a box approach to television playout. The latest version, AirBox Neo, has all the features we require including the ability to handle live content which was particularly important.
"The new channel will start with quite a high proportion of pre-recorded content coming out of the AirBox Neo. More live content will be added when the channel is fully geared. The PlayBox Technology system will be used to control channel branding and presentation, playout of locally archived programmes and interstitials, commercials, opt-outs to live news, the weather, everything. The idea is to have as much of the process as possible automated.
"We have a huge amount of content and have been rehearsing over the past few weeks to make sure everything is operational. We now have 24 hour schedule running and all is working well. Our staff find the PlayBox Technology equipment intuitive to operate. The few questions that arose during the familiarisation process required little more than a phone call to resolve."
President of PlayBox Technology, Don Ash, added: "We are very pleased that Celebro has chosen the Neo product series as the core of its expansion into direct broadcast playout. An incidental advantage of AirBox Neo is that it occupies a relatively small amount of space, just three rack units, allowing easy expansion. We also offer the option of running two fully independent television channels from a single server."
Image: Presentation controller Ryan Lazenby operating PlayBox Technology Neo in Gallery A at the London studios of Celebro Media.
www.playboxtechnology.com
(JP/MH)
Top Related Stories
Click here for the latest broadcast news stories.