Broadcast News
13/12/2017
Quantum Unveils Scale-Out NAS For Most-Demanding IP-Based Media Workflows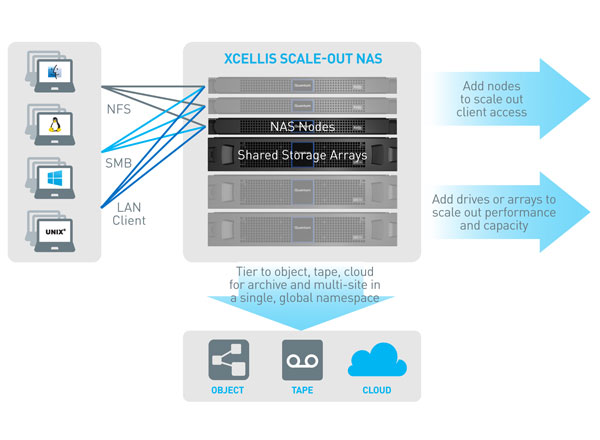 Quantum has announced a new Xcellis® Scale-out NAS solution that delivers the highest levels of storage performance and scalability in a cost-effective, Ethernet-based appliance.
Powered by Quantum's StorNext® shared storage and data management platform, the multiprotocol, multiclient Xcellis Scale-out NAS system unites robust media and metadata management with industry-leading performance — three times better than that of competing NAS systems — and unmatched scalability to support content creators' most demanding collaborative workflows and ease their transition to an IP-based infrastructure.
Addressing Workflow Pressures and the IP Migration
High-resolution, high-volume media workflows such as collaborative 4K editing and visual effects creation demand extreme performance and scalability from the underlying storage infrastructure. To meet this challenge, content creators have traditionally utilized high-throughput SAN solutions because NAS offerings were unable to provide adequate performance. Quantum's Xcellis Scale-out NAS stands alone in its ability to deliver the uncompromising performance and scalability previously available only in a SAN to all-IP workflows at an affordable price. In addition, Quantum enables users to configure an Xcellis solution with both scale-out SAN and NAS to provide maximum flexibility.
Specific benefits of Xcellis Scale-out NAS include:
• Increased Productivity in All-IP Environments: Featuring a converged architecture that saves space and power, continuous scalability for simplified scaling of performance and capacity, and unified access to content, Xcellis systems boost productivity in collaborative media environments by integrating the most important components of workflow storage into a single, easy-to-manage hardware solution.
• Cost-Effective Scaling of Performance and Capacity: A single Xcellis Scale-out NAS appliance performs at least three times better than that of the market's next-best NAS offering. An Xcellis cluster can scale performance and capacity together or independently to reach hundreds of petabytes in capacity and more than a terabyte per second in performance. When deployed as part of a multitier StorNext infrastructure ― which can include object, tape and cloud storage ― Xcellis Scale-out NAS can cost as little as 1/10 that of an enterprise-only NAS solution with the same capacity.
• Lifecycle, Location and Cost Management: The Xcellis Scale-out NAS platform leverages more than 15 years of data management experience built into StorNext software, which provides automatic tiering between flash, disk, tape, object storage and public cloud. Copies can be created for content distribution, collaboration, data protection and disaster recovery.
• Integrated Artificial Intelligence: Xcellis is the industry's only storage appliance that can integrate artificial intelligence (AI) capabilities to enable users to extract more value for their assets through the automated creation of metadata. The system can actively interrogate data across multiple axes to uncover events, objects, faces, words and sentiments, automatically generating new, custom metadata that unlocks additional possibilities for the use of stored assets.
Keith Lissak, senior director, Media and Entertainment Solutions Marketing, Quantum, said: "Media professionals have been looking for a solution that combines the performance and simplified scalability of a SAN with the cost efficiency and ease of use of NAS. Quantum's new Xcellis Scale-out NAS platform bridges that gap. By affordably delivering high performance, petabyte-level scalability and advanced capabilities such as integrated AI, Xcellis Scale-out NAS is the ideal solution for migrating to all-IP environments without the need to compromise in any way."
quantum.com
Top Related Stories
Click here for the latest broadcast news stories.